Need2Know: Prescott Youth Job Fair, awards, builders and retail

By
Max Efrein
|
mefrein
Originally Published: May 28, 2017 6 a.m.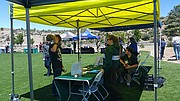 Prescott Youth Job Fair success
Seventy youth attended the first-ever Prescott Youth Job Fair on Friday, May 19. The event took place at the Juvenile Justice Center in Prescott. More than 30 employers and resources participated. 
Yavapai County, Yavapai College, DES Employment Services and Goodwill of Central and Northern Arizona partnered to make the event happen.
Local developers buy empty downtown Prescott lot
Local developer, Brad Christensen, CEO of Ponderosa Hotel Management, along with a group of investment partners, recently purchased the vacant lot at 119 Goodwin St., adjacent to the Prescott Chamber of Commerce.
No definitive plans for the use of the lot are in place at this time, said Margo Christensen, vice president of Marketing and Public Relations for Ponderosa Hotel Management. This investment group has a similar ownership investment in the lot directly across the street which is currently leased.   
Margo is working with Sheri Heiney, CEO of the Prescott Chamber, on a management contract for the rental of the space for events and vendor parking.  The length of time for the Chamber's management contract is undetermined and will remain unknown until a viable development opportunity presents itself, Margo said.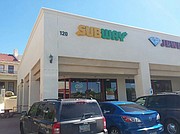 New Subway in Prescott
A new Subway has opened up in the Depot Marketplace where a Blimpie sub shop used to be, 120 E. Sheldon St, Prescott.
The soft opening took place on Wednesday, May 24. A grand opening celebration featuring giveaways and raffle prizes is planned for sometime in mid-June (call store for details).
This is the only subway in Arizona featuring new digital menu boards and the new revamped Subway logo, according to franchise owners Andy and Brooke Weitkunat.
The Weitkunat's also own the Subway in the Frontier Village Center, 1781 Highway 69, Prescott. They've been Subway franchise owners for 12 years and small business owners for 17 years.
Prescott Brewing Company wins bronzes for beers
Prescott Brewing Company received two prestigious bronze medal beer awards from the world-renowned Australian International Beer Awards competition.

The 25th annual AIBA competition was held in May 2017 and is the largest annual beer competition in the world judging both draft and package beer, according to the Brewers Association. Sixty international beer experts judged 1,892 beer entries, including 979 international entries.
Prescott Brewing Company's Ponderosa IPA Bronze got the bronze in the Best IPA category and its Achocolypse Chocolate Porter got bronze in the Best Specialty Beer (Chocolate) category.

Dorn Homes growing
Dorn Homes is moving up the company size ladder. Builder Magazine's Builder 100 List and Professional Builder Magazine's Housing Giants List reflect Dorn Homes' ongoing growth.
The Builder 100 List, which ranks homebuilders by the number of homes they have sold, features Dorn Homes as the 157th biggest homebuilder in the nation, compared to its ranking of 164 last year. The Housing Giants List, which is based on total revenue, ranks Dorn Homes at 165 up from a ranking of 184 last year.

Mandalay Homes congratulated by DOE
Sam Rashkin, chief architect of the Department Of Energy and three of his co-workers, made a special visit to Prescott recently to congratulate Mandalay Homes on becoming the largest builder of Zero Energy Ready 'Certified' homes in the nation, according to a news release.
Mandalay Homes accomplished this achievement in less than five years, passing other prominent national homebuilders that had been in the program much longer. 'Certified' means going through a 'third party' process of testing and certifying that each home meets and exceeds the rigorous guidelines for energy efficiency in home building.
Local homebuilding codes dictate the minimum requirements for home construction. Mandalay Homes exceeds local requirements and exceeds 'Energy Star' requirements by more than 2.5 times.
Affinity RV featured in RVUSA as it turns 20
As it celebrates 20 years of business, Affinity RV has been recently featured by RVUSA. The spotlight, of which RVUSA does one weekly on a different dealership, reviews Affinity's history and services. To see the feature, go to http://bit.ly/2qXAr5N.
To submit items for the Courier's Need2Know, email twieds@prescottaz.com; for legal advertisements, email tbryant@prescottaz.com.
SUBMIT FEEDBACK
Click Below to: