Three more candidates file petitions for Prescott City Council, Mayor
Candidates have until Tuesday, May 31, to file for primary


By
Max Efrein
,
The Daily Courier
|
mefrein
Originally Published: May 27, 2017 5:55 a.m.
Nearing the end of the filing period for Prescott Mayor and City Council, three additional candidates have filed the necessary paperwork — two for council and one for mayor.
Mary Beth Hrin has now officially joined the preliminary race for mayor along with Greg Mengarelli, who turned in his paperwork on May 11, according to Rhonda Basore, Interim Prescott City Clerk.
Hrin submitted 1,617 signatures on May 23. As of May 26, those signatures were still being verified.
The only prospective candidate left to file her paperwork for the mayor's post is current City Councilwoman Jean Wilcox.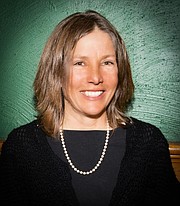 For the City Council race, Phil Goode is now joined by Constance Cantelme and Alexis Scholl.
Constance submitted 999 signatures on May 22, with 930 considered valid.
Scholl submitted 1,061 signatures on May 26. As of May 26, those signatures were still being verified.
Those still left to file their paperwork to run for a City Council position are incumbent Councilmembers Steve Blair and Greg Lazzell, as well as residents Joe Viccica and Rick LeVang.
The council seats currently held by Mayor Harry Oberg, Wilcox, Blair, and Lazzell are all up for election this year. The mayor's term is for two years, while the council terms run four years. Oberg earlier announced that he would not be seeking another term.
The city primary is scheduled for Aug. 29, and the general election is set for Nov. 7.
The nominating packets became available at the city clerk's office at Prescott City Hall on Feb. 1, and will continue to be available for other prospective candidates through the end of May.
In order to be listed on the primary ballot, candidates must collect at least 718 signatures from registered Prescott voters, and not more than 1,435.
Candidates have until Wednesday, May 31, to file their completed petitions.
More like this story
SUBMIT FEEDBACK
Click Below to: