Big Easy benefit concert set for Sunday

By
Max Efrein
|
mefrein
Originally Published: May 25, 2017 8:20 p.m.
Essentials
What: The Big Easy Bar benefit concert
Where: A.C. Williams Granite Creek Park, 554 6th St, Prescott
When: Sunday, May 28, from noon to 5 p.m.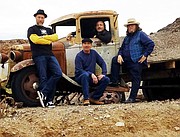 Hearing your business is on fire is one of the worst bits of news a business owner can receive.
On April 9 at about 11 p.m., Jana and Hayden Harris received such word. Their business, The Big Easy Bar, located at 125 N. McCormick St. in Prescott, had caught fire. The building was considered a total loss and the cause was unknown even after an investigation.
"It was devastating," said Jana, who runs the 15-year-old business mostly on her own.
With tragedy can come love, however.
Without asking, friends, patrons and business associates quickly began discussing how they could help the couple bring the bar back to life.
The largest effort has been made by Christian Berry, whose band, The Electric Swamp Poets, has played at The Big Easy Bar several times in the last couple of years.
"[The Harrises] have supported music, especially start-up groups that were new," Berry said. "On every single occasion that I know of, they've pulled the money out of their pockets to pay the band even when they knew they weren't going to make that money back."
To repay the unconditional support, The Electric Swamp Poets and several of the other bands that have played at the Big Easy before have rallied together to put on a benefit concert this coming Sunday, May 28, on behalf of the Harrises.
The non-alcohol, family friendly concert takes place at Granite Creek Park in Prescott from noon to 5 p.m. It will feature five Prescott bands with an all-star "jam session" at the end. The band lineup is Scandalous Hands, Marko Donnely, Sky Daddy & The Pop Rocks, The Electric Swamp Poets and The Groove Kings. Admission is free, but there will be donation stations located throughout the venue.
"It will be a great day to get out, have a little BBQ in the park and enjoy some great live music by some of Prescott's best entertainers, all for a good cause," Berry said.
The Northern Arizona Blues Alliance, which Berry is Prescott Area Vice President of, is sponsoring the daylong event. Sky City Audio will be providing the sound equipment and setup pro bono.
For those who cannot attend the event but still wish to contribute to the cause, there is a Go Fund Me account Berry set up to raise funds as well (www.gofundme.com/big-easy-bar-fire-rebuild).
"I appreciate the community coming together," Jana said. "It's very heartwarming to know that my little place made such a big impact with more people than I actually realized."
More like this story
SUBMIT FEEDBACK
Click Below to: