Dirt roads come with rural living
Costly endeavor to get county to take over road maintenance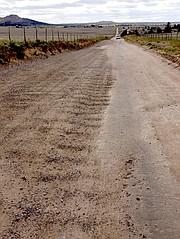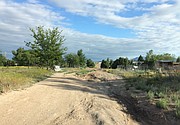 Six miles northwest of the Chino Valley Post Office, the town-paved roads turn into unmaintained county roads with deep potholes.
Dick Jonas and his wife, Mary, live two miles outside the town limits off west Road 3 North.
"It's paved all the way until a 100 yards short of our driveway," Jonas said. About another 50 homes are located farther down Cherokee Road and into Hidden Canyon off county unmaintained roads.
Jonas and others formed a sort of informal community organization that donate money to help keep up the dirt road. They had looked into what it would take to convince the county to assume responsibility for grading. The county has "real strict regulations," he said.
Tim Stotler, assistant engineer with Yavapai County, said the county has taken over only a very few unmaintained roads in unincorporated areas of the county. According to state statutes, the road has to be brought up to county standards first, Stotler said.
"A road cannot be accepted unless it is constructed to county standards. You have to make improvements, hire an engineer to make plans, and a geotechnical engineer, figure out drainage, and pave the road," he said.
What people can do is gather signatures of at least 60 percent of property owners who access the road who agree to form a roads improvement district. They form the district and bring the other 40 percent along "kicking and screaming," Stotler said.
This is how the county was able to take over maintenance of Coyote Springs and Poquito Valley roads north of Highway 89A and Prescott Valley, for instance.
The county oversees improvement districts. The county engineers oversee the engineering plans for drainage and paving, and come up with a cost estimate. The bondsman decides whether it can be bonded against the assessed value.
"Everybody in the district served by the road gets an assessment," Stotler said.
Then the job goes out to bid, the county hires a contractor, and makes the improvements. After completion, the county board of supervisors accepts perpetual maintenance of that road.
"It's an expensive thing. A lot of people are disappointed; not everybody wants an assessment against their property, but having a paved road does produce a higher property value," he said.
Nevertheless, he added, a lot of people live out on dirt roads because they want to be there. They like being a rural area. Sharing maintenance expenses among themselves can sometimes be a bit contentious, he said.
Jonas, who has lived on his five-acre property for 12 years, said he and his wife love being out with their two dogs and a couple of cats. He sees the occasional deer, rabbits and javelina.
The road is in better condition now because of the community support, he said, and because one of his neighbors has a road grader. "Usually after rain, he comes down and plows the road."
After bad weather is when the county roads division also gets a lot of calls. Stotler said he explains the county road acquisition process and the need for 60 percent buy-in from neighbors, and it is "a real reality check" for the callers.
Residents also want to know why they pay taxes but their road is not maintained. Property tax doesn't go toward roads, Stotler explains, it's the gasoline tax money that pays for road and highway maintenance. And a small portion of taxes on purchased goods that goes into regional road maintenance such as for Iron Springs Road and Outer Loop.
More like this story
SUBMIT FEEDBACK
Click Below to:
This Week's Circulars
To view money-saving ads...