Memorial Day ceremony set for Citizens Cemetery May 29
Observance follows traditions of first ceremony in 1910
Originally Published: May 22, 2017 6:01 a.m.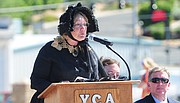 A Memorial Day ceremony modeled on the inaugural 1910 event is scheduled for May 29 at the 153-year-old Citizens Cemetery.
The Yavapai Cemetery Association will present its annual one-hour Memorial Day observance at the cemetery, 815 E. Sheldon St., Prescott. The ceremony is set for 9 a.m. Monday, May 29.
A news release from Yavapai Cemetery Association notes that Citizens Cemetery, which dates back to 1864, is the final resting spot for many of the area's earliest pioneers and veterans of wars – including the Civil War.
"The Memorial Day observance is modeled on a ceremony that first took place in Citizens Cemetery in 1910," the news release adds.
Former Arizona Secretary of State Ken Bennett will lead the program, which features readings and speeches by U.S. Rep. Paul Gosar, Prescott Mayor Harry Oberg, Yavapai County Supervisor Jack Smith, and USMC veteran and member of Daughters of the American Revolution Tina Bourdon.
Also, laying of the wreath will be done by Gold Star Mother Jasmine Crowl, and Loyce Johnston of Prescott National Memorial Ladies.
The invocation will be given by Kermit Hunt, Chaplain at Kindred Hospice in Prescott. Prescott Deputy Chief of Police Amy Bonney will lead the Pledge of Allegiance.
The Prescott Brass Ensemble led by Max Borjon, Veterans Memorial Piper Don Mansfield, High Mountain Chordsmen, led by Ed Roush and Vietnam veteran Jack Brugger, will perform patriotic music.
Bradley S. Moors will perform Taps.
A flag presentation to American Legion Ernest A. Love Post 6 for the flag raising will be by the Camp Verde Cavalry and Arizona Rough Riders Troop 1A.
"Representatives of many veterans organizations attend this ceremony each year, as do local historical societies and living history groups," the news release stated.
The Yavapai Cemetery Association points out that Citizens Cemetery contains the graves of more than 3,000 Yavapai County pioneers.
"On Memorial Day we remember and honor those who have fallen in service to their country and acknowledge and thank those still with us," the news release stated.
Admission is free, and parking will be available in neighborhood streets or Yavapai College parking lots, but not in the cemetery. Organizers recommend attendees bring a folding chair, cold drink, and a hat.
Attendees are invited to decorate the graves of veterans with flowers, provided by YCA.
More like this story
SUBMIT FEEDBACK
Click Below to: