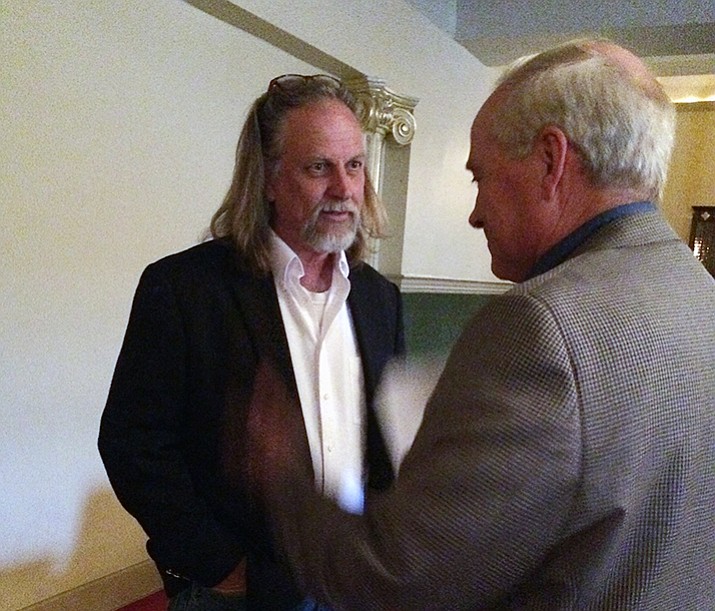 Photo by Nanci Hutson.

Originally Published: May 21, 2017 5:55 a.m.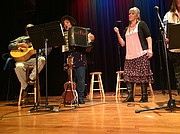 Humming a bit of the "Alabama" country tune, "I'm In a Hurry," Coalition of Compassion and Justice Executive Director Paul Mitchell said he can appreciate every line of that song except for the songwriter's suggestions he doesn't know why he's in a hurry.
Mitchell knows exactly why he is always in a hurry.
"I'm in a hurry to save lives," Mitchel told a group of about 150 local business and civic leaders at CCJ's second annual Partners Celebration at the Elks Theatre & Performing Arts Center last week.
With his voice quavering at times, Mitchell said he is in a hurry to end homelessness in Prescott.
"I want Yavapai County to join with other counties to end homelessness, not just manage homelessness," Mitchell said. "I'm in a hurry to build a healthier community."
And he has no doubt it can be done.
For all of its 16-year history, CCJ has been devoted to ending poverty in the Prescott region.
Until the end of 2016, the bulk of CCJ's operation has existed in rented space at the Prescott United Methodist Church on West Gurley Street. One of its better known programs was The Open Door, a place that served a daily congregate meal and offered a food pantry as well as bathrooms, showers and some respite to the homeless.
Thanks to local benefactor, Howard Mechanic, CCJ's outreach to the homeless has gone from a controversial "Safe Legal Sleep" project on the outdoor grounds of the charity's thrift store on Fair Street to a year-round, emergency shelter on Madison Avenue named the "Stagger Straight" community by its clientele. The shelter is open to between 45 and 50 men and women daily; clients with substance abuse and mental illness are welcome as are those with pets. The shelter is ruled not on a sobriety requirement but on behavior while in the shelter space.
The official name of the 7,500-square-foot space, formerly a warehouse — now under renovation to become the hub of CCJ's philanthropic operations — is the Coalition for Compassion and Justice Howard Mechanic Social Justice Center. CCJ plans to become the eventual property owner as it was for the thrift store property Mechanic also made available to them in 2015.
The shelter opened in November and has proved a major step forward in getting homeless men and women off the streets. But Mitchell is clear it is a Band-Aid solution. The real answer is long-term, affordable housing that enables these people to have what everyone wants: a safe space to call their own.
"We need to get to the bottom of the problem while we provide charity," said Mechanic, a guest speaker at the Partners Celebration. "Housing and food should be a right."
To that end, CCJ last year initiated a program called Second Chance Housing; donated RVs and motor homes that have been converted into living spaces at a local motor home park. The program started with three units and now has 16, housing some 30 formerly homeless individuals and families. CCJ also operates a free home repair service for low-income individuals who have homes in need of maintenance; in 2016 they did about 100 repair jobs. CCJ regularly partners with other nonprofits, particularly Catholic Charities, U.S. Vets and the local VA, to place eligible shelter clients in their programs.
CCJ has become a leader in working with area landlords to offer affordable rents with the guarantee of proper case management so their clients are good tenants.
CCJ's thrift store operation is a revenue generator, but also provides vouchers for the homeless to buy clothes and housing goods and offers employment opportunities to 35 clients. CCJ just launched a new program, "The Little Tree House" family resource center in what was the Open Door space.
City planning and police department leaders shared how CCJ, fueled by Mitchell's "rush," are making lives better for those on the fringe. "I'm in a hurry, and I know why," Mitchell concluded.