Church News: Week of May 20, 2017
Originally Published: May 20, 2017 6 a.m.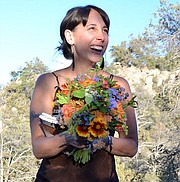 "Caring For Your Own – The Home Funeral Movement - A Satisfying Grief Process" is the topic at the 11 a.m. Sunday, May 21 service at Prescott Unitarian Universalist Fellowship, 945 Rancho Vista Drive, Prescott. Dani LaVoire will explain the home funeral movement from both the legal and practical perspectives, and green burial and other alternatives will be explored. There will be time for questions and sharing of experiences. Music will be provided by Jonathan Best. LaVoire, a licensed homebirth midwife, hospice volunteer and home funeral guide, feels blessed to sit compassionately with families during their most vulnerable and challenging transitions. She loves to garden, cook, and hike with her children in her free time.

Craft and Bake Sale: Faith United Community Church, 1061 Old Chisholm, Prescott Country Club, Hwy. 69 and Maverick, 9 a.m. to 3 p.m. Saturday, May 20, featuring 35-plus vendors selling craft and gift items including sewn goods, jewelry, wood products, goat milk soap products, baked goods and much more. Sloppy Joes, hot dogs, kielbasa and beverages also will be for sale. There will be a 50-50 cash raffle with 50 percent going to the needy. For more information, call Andrea, 928-775-6866.
New location for Discovery Church: During the summer, Discovery Church will meet at 10 a.m. each Sunday at Sam Hill Art Gallery, 232 N. Granite St., Prescott.
Spring Bazaar and Bake Sale: Sponsored by the Lutheran Women's Missionary League, 9 a.m. to 3 p.m. Friday and Saturday, May 19 and 20, Shepherd of the Hills Lutheran Church, 1202 Green Lane, Prescott. Many vendors will be selling their handcrafted items featuring unique gifts for grads and dads and many spring and summer items. Lunch will be available for purchase. All proceeds will benefit the church's mission projects, all of which are located in the tri-city area. For more information, call Janis Krebs, 928-778-1672, Beverly Williams, 928-771-9521, or the church office, 928-778-9122.
Movie, "Risen": Prescott Community Church will host a free showing of the movie "Risen", open to the public, at 2 p.m. on Sunday, May 21.  Popcorn, lemonade, iced tea and water will be provided.  The movie will be shown in the Faith Center at the church, 3151 Willow Creek Road, and all are invited.  "Risen" is a 2016 movie that tells the familiar story of Jesus' death and resurrection from the vantage point of a Roman soldier who is charged with locating the missing body.  Please see pccaz.org for more information.
Flower Communion, 10 a.m. May 21: The Reverand Karla Brockie invites everyone to bring a flower for this intergenerational celebration of the community and of young people (if you don't have a blossom, there will be extras). A bridging ceremony for graduating high school seniors will conducted. The Granite Peak choir will perform. There is a staffed nursery for infants, toddlers and pre-schoolers, Soup Sunday will follow the serviceThe church is located at 882 Sunset Avenue, Prescott. For more information, visit http://www.prescottuu.org.
Jerusalem Day: Beit Torah welcomes all to join in observing Jerusalem Day Wednesday, May 24, and greet the new month of Rosh Chodesh Sivan just before Kabbalat Shabbat even dinner on May 26. For locations, directions and details, call 928-237-0390 or 928-227-0582 or email ansheitorah@cableone.net.
First Lutheran Church Mission Festival: Rev. Jonathan Stern, Christian Giving Counselor for the AZ/CA District of the Wisconsin Evangelical Lutheran Synod, will be the guest Bible Class presenter and preacher May 21. Bible class will be at 8:30 a.m. and worship 9:30 a.m. As a Christian Giving Counselor, Stern encourages Christian stewardship. He also has the privilege of sharing the work we do together as brothers and sisters in Christ, from ministerial education to world mission fields; from new missions in North America to reaching those in prison with the hope of the gospel.
Women of Wisdom (WOW): Spring session runs through May 24, on Wednesday mornings from 8:15 to 11:15 a.m. at American Lutheran Church, 1085 Scott Drive, Prescott. Full and partial scholarships for class materials are available and free childcare is provided. The program includes coffee time, praise and worship music, prayer, a first hour Bible teaching and a choice of a second hour Bible study or a "Fun, Faith and Fellowship" class. Detailed brochures with registration forms are available at the American Lutheran Church office, or call 928-445-4348 to have the brochure mailed to you.
Forty Days After Jesus Ascended Into Heaven: Pastor Tim Henning's message will be "I am Coming Soon" (Revelations 22:12-21), 6:30 p.m. Thursday, May 25, Hope Lutheran Church, Chino Valley.
Mountain View Baptist Church Monthly Gospel Concert… Jason Jonkers and the Open Graves", 5:30-6:30 p.m., Sunday, May 28. Refreshments will follow the concert. Admission is free, however a love offering will be gratefully accepted. The church is located at 395 Pony Place, Dewey. Take Highway 69 to Kachina, turn west to Pony Place and then to church.
St. Luke's Episcopal Church musical concert: 3 to 5 p.m. June 3, 2000 Shepherds Lane, Prescott. The Choir of St. Luke's will be featured, under acclaimed Choir Master Dennis Houser. The theme is "Make a Joyful Noise" and features "Gloria" by Vivaldi. Admission is free, however free will offerings will be accepted as this is a fundraiser for St. Luke's to support the mission of the Church.
Chino Valley United Methodist Church Summer schedule: During the summer months, June 4 through Sept. 3, there will be only one service, at 10 a.m. This will enable people from both congregations to become better acquainted as well as welcome newcomers to the area. Adult Sunday school will meet weekly at 9 a.m. and children's Sunday school will be on the 2nd and 4th Sundays or each month at 10:15 a.m. The church is located at 735 E. Road One South, Chino Valley.
Prescott Valley United Methodist Church Centering Prayer: 1 p.m. Thursdays at Prescott Valley United Methodist Church, 8944 E. Sommer Dr. Centering Prayer is a silent communion with God beyond concepts, words and images. The discipline of centering prayer is the prayer of silence and listening. An introductory workshop, followed by six follow-up sessions for newcomers, will be held in May. The group is open to all. For more information, call Lisa, 928-772-6366.
Justice Vespers Service, 5:30 to 6:30 p.m. on the third Wednesday of each month at Granite Peak Unitarian Universalist Congregation, 882 Sunset Ave., Prescott, for those who are concerned about and working for justice. Features short readings, inspiration music, time to share and silent meditation. Everyone is invited to attend.
St. Luke's Episcopal Church Centering Prayer Group, meets from 9 to 10:15 a.m..on the second and fourth Fridays of each month in the Meditation Room, located next to the library in St. Luke's Parish Hall, 2000 Shepherd's Lane Prescott. Centering prayer is a method of contemplative prayer that carries one beyond words, thoughts, feelings and internal discourse to an encounter with the Divine Presence within. All are invited to attend and the group is open to new members. Information: Keehna Sture, 941-539-1257 or email ksture5983 @gmail.com.
Share the Gospel Training, for people of all denominations who want to learn how to talk to people about the good news of Christ, meets 11 a.m. to 1 p.m. Saturdays at Union Station, 114 Union St, Prescott. For information, call Pat, 612-202-0842.
St. Luke's Episcopal Church Centering Prayer Group, meets on the second and fourth Fridays of each month in the Meditation Room, located next to the library in St. Luke's Episcopal Church parish hall. All are welcome. For more information, contact Keehna Sture, 941-539-1257, or ksture5893@gmail.com.
Discovery Prescott: Discovery Youth will take an adventure to California for a Youth Speciialties conference which will be full of learning, and fellowship on the beach around a bonfire. Everyone is welcome to be a part of this growing community of teenagers from Discovery Church, Prescott. Information: www.discoveryprescott.com
First Congregational Church of Prescott, 216 E. Gurley St., Prescott, is beginning a Jazz Vespers Series from 6:30 to 8 p.m., the last Wednesday night of each month. These informal events are open to people of all faiths. The focus is on the music and the opportunity to hear it in an "acoustically alive' historic sanctuary. Admission is free, but an offering will be taken for the benefit of the musicians.
Compassionate Friends, a support group for people who have lost children meets every 4th Thursday of the month at 11 a.m. at Trinity Lutheran Church lower level. The address is 3950 N. Valorie Drive, Prescott Valley. For more information, contact Donna at 928-460-0168.
The Children's Clothes Closet and the Community Service Food Bank are open at the Prescott Seventh-day Adventist Church, 2980 Willow Creek Road, from 9 to 10:30 a.m. on Thursdays.
Connection Church meets Sundays at Abia Judd Scholl, 1749 Williamson Valley Road, Prescott, in the Gym. Fellowship is at 10 a.m. and service is at 10:30 a.m. Childcare is available. Lead pastor is Jake Madlock. For information, email theconnectionchurchaz@gmail.com.
Revival Fire Ministries, Inc., a Cleveland, Tennessee based Church of God, a full Gospel Pentecostal Church, preaching the entire word of God, as it is written, is now in Prescott. They believe in being born again, sanctification and Holy Spirit Baptism. All are welcome – the faithful and those with little to no faith. Pastor Fred Hays will deliver the message. Fellowship is at 10 a.m. with worship service at 10:30 a.m. Sundays, at La Quinta Inn, 4499 E. Highway 69 in Prescott. For additional information, call Pastor Fred Hays at 928-201-1885.
Ahava B'Shem Yeshua meets at the Alliance Bible Church, 2601 Iron Springs Road, Prescott. Come join us for worship, dance, prayers and teachings this Shabbat. For information, email abyprescott@gmail.com.
Faith Christian Fellowship of Kirkland has 10 a.m. Sunday services and 6:30 p.m. Thursday service at the Kirkland Elementary school. Join us and experience His grace as we boldly approach His throne. (Hebrews 4:16). Children's church is provided. Pastor Greg Poole presents the message. For more information, contact Pastor Poole at 928-231-0495.
Are you interested in becoming Catholic or would like to complete the sacraments as an adult? If so, St. Germaine Catholic Church in Prescott Valley has a program for you! It's called RCIA, and it begins soon. To sign up or for more information, contact Robert at 928-772-6518 or stg-re-adult@cableone.net. Inquirers are welcomed.
The Anglian Church of the Holy Spirit announces they have moved to a new location. They are now meeting in the fellowship hall at the Prescott Valley United Methodist Church, 8944 E. Sommer Drive, Prescott Valley. Sunday worship is at 9 a.m., featuring a Holy Communion service with music and using contemporary language. They have an active healing ministry, as well as regular study groups. They are a warm, loving Christian family and welcome visitors and new members.
All Saints Anglican Church of Prescott started a service of Morning Prayer each weekday morning at 8 a.m., meeting in the chapel, 1806 N. Savage Lane, Prescott. The service is taken from the Book of Common Prayer (1928). The service is geared for those who desire a more disciplined spiritual life, to gather to pray, to confess our sins, to hear Holy Scriptures read aloud, and to pray for others. The service has been done in English since 1549 in a variety of Books of Common Prayer, and has been a part of the spiritual life of Anglican Christians as long. We use the 1928 Book of Common Prayer. All (including non-members and non-Christians) are welcome. For more information, call 928-443-5323.
Faith in Fitness classes take place Tuesdays and Thursdays at First Southern Baptist Church Prescott Valley, 2820 Pleasant View Drive. They are designed to increase muscular strength, endurance and flexibility using stability balls, resistance bands and mats. There is no cost for the class. For information and times, call 928-772-7218 or check online at www.firstsouthernpv.org.
The Connection Church, a non-denominational community of people who desire to experience a powerful relationship with our Heavenly Father, meets at 10:30 a.m. on Sundays, at Abia Judd Elementary, 1749 Williamson Valley Road, Prescott. Its mission is to "Love God, Love People,, Love Life." For additional information, call 928-830-7619.
Grace Bible Fellowship of Prescott hosts Bible studies and discussions 10:30 a.m. Sundays at the Adult Center of Prescott, 1280 E. Rosser St. Pastor Tom Perconti brings deep, impacting, verse-by-verse teaching from the Word, followed by challenging, warm and supportive fellowship and discussion time. For more information, visit www.graceprescott.org or call 928-273-8491.
Compassionate Friends, a support group for parents who have lost a child at any age or however long ago, meets the second Tuesday of each month at Prescott United Methodist Church, 505 W. Gurley St. Pastor Carol Mumford leads the group, and any community member who has lost a child may attend. This is just one of the support groups that meets each month at PUMC. Other groups offer support for those with health issues such as breathing problems, cancer, depression and fibromyalgia/chronic fatigue. Contact the church office at 928-778-1950 for more information about these groups.
More like this story
SUBMIT FEEDBACK
Click Below to:
This Week's Circulars
To view money-saving ads...