Unsecured pets in vehicle can be a driving distraction
How to travel safely with pets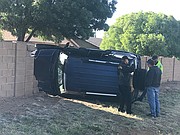 Hey, pooch. Wanna' go for a ride?
If you allow a pet to sit freely inside your vehicle while you take a drive to wherever, you might want to add some safety features for your dog or cat, and by extension, for yourself, your passengers and other travelers on the road.
In a recent crash incident in Prescott Valley that occurred May 15, the driver was transporting a cat to the vet.
"The cat freaked out and jumped up on the steering wheel. The driver tried to control the cat and lost control of the car," said Ofc. Jerry Ferguson, Prescott Valley Police Department.
The car hit a block wall and ended up on its side. The driver had minor injuries; the fate of the cat is unknown, he reported.
Ferguson said any pet riding in a vehicle should either be caged or securely attached to a seat other than the driver's seat, and certainly not to the steering wheel.
"It should not be able to get into the driver's lap. If even a minor bump was to set off the airbag in the steering wheel, any pet in the driver's lap would likely be killed," Ferguson said. "If a driver would not allow his children to sit on his lap while driving, neither should one allow a pet to sit on his lap."
This "pet peeve" of many traffic officers – driving while one's view is blocked – also is against the law.
State statute prohibits driving while one's view is obstructed by anything – material, passengers or pets – either to the front or sides, to cause interference with the driver's control over the vehicle.
The comparison to children's actions and dogs' makes a good point. Would you allow your child to hang his or her head out of a car going 65 miles per hour? Bugs, dirt, rocks can damage eyes and get into the nose.
Why do you think motorcyclists are required to wear goggles, face shield or other eye protection? We've all experienced a tiny rock hitting the windshield and leaving a pockmark. Think about what that would do your pet's face.
Perhaps not so much for children, but ears are susceptible to irritation or hematomas which can be caused by forceful flapping at moderate to fast speeds.
Spotting an attractive dog outside of the vehicle could result in your dog wiggling its way accidentally right out the window. And depending on your driving skills, taking a corner too sharply can cause a dog to lose its footing and toss it through an open window or into the windshield.
Crack a window instead, to allow those entertaining scents to enter the vehicle.
And please strap your pet in its seat. Again, comparing children with pets, no one wants to see either one hitting the dashboard or going through a windshield during a collision. And a flying mass of any size dog inside the car hitting you or a passenger isn't much fun either.
Dog owner Heidi Dahms-Foster often transports her prize-winning canines to shows around the state. She uses Ruff Tough kennels installed inside the back of her SUV.
"I never let them ride loose," she said. "Contain your dogs."
Dahms-Foster related an incident where a friend returning from a dog show was involved in a crash and two unsecured dogs escaped through broken windows and ran off into the desert. Thankfully, they were located alive several days later.
She also stressed the need for crates in the bed of pickup trucks. "Make sure the crate is properly secured – these things can bounce out. And remember, it gets hot back there," she said.
Some owners will attach their dogs to a strap in the truck with a short leash so the dog can't be thrown over the side and strangle.
Yelling at your dog or cat to sit down when you're driving just doesn't cut it safety-wise. You can find pet seat belts, harnesses, even booster seats for small breed dogs at local pet stores.
More like this story
SUBMIT FEEDBACK
Click Below to: