'Thunder & Lightnin' to ignite Far From Folsom

By
Nanci Hutson
|
HutsonNanci
Originally Published: May 18, 2017 7:55 p.m.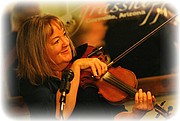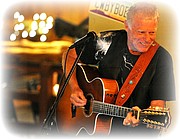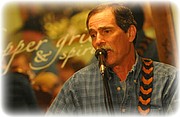 A Verde Valley-based bluegrass Americana group will do an encore performance at Whiskey Row's Far From Folsom restaurant and bar on Saturday, May 20, from 2 to 5 p.m.
The trio, known as Thunder & Lightnin', offers not only music that speaks to the heart of America with knee-thumping "mountain" sounds but with an energy that is infectious and fun for all audiences.
Fiddler Belita Mulliax of Prescott Valley hails from the hills of West Virginia and is able to talk and sing just the way she plucks her strings, "echoing pure Americana from up the holler," said her guitarist partner Steve Estes, who brings to the threesome a "humor-filled harmony" that has proved a crowd pleaser wherever the trio has performed. They are regulars at the Grasshopper Grill in Cornville on Thursday nights.
The band is eager to expand its growing audiences to the other side of Mingus Mountain and beyond. A month ago, they debuted at Far From Folsom and were thrilled with their reception.
Beginning as a duo, Estes and Mulliax discovered a kindred spirit in the audience of one of their shoes, Rob Gibbs, a banjo, guitar and harmonica aficionado who also sings and writes songs. Gibbs had just recently relocated to Cornville from Maryland. The three forged a musical bond.
Thunder & Lightnin' are quickly blending into the local music scene, performing on Mother's Day for the Verde Valley Wine Festival.
Chosen to be one of those performers was "truly an honor," Estes said.
"We are blown away by the loyalty and enthusiasm of our Cornville and Sedona area following, both locals and tourists. We're looking to create the same buzz everywhere we go."
"We are really excited to be a part of what Far From Folsom means to the live music scene here in Prescott," Estes stated in a news release. "Being in the company of all the great acts that perform here is inspiring and keeps us on our toes, for sure. We're so happy to be part of it."
More like this story
SUBMIT FEEDBACK
Click Below to:
This Week's Circulars
To view money-saving ads...