Play It Forward music festival celebrates mentors
Multi-artist concert Sunday, May 21, showcases Boys to Men Mentoring Network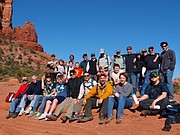 Come hear professional musicians Walt Richardson, an Arizona Music Hall of Fame Inductee, Gigi Gonaway, a renowned drummer who has played with Mariah Carey, and Drew Hall, a local musician who appears in downtown Prescott with a hand-picked crew of young, local talent at Sunday's Play it Forward Music Festival.
The fourth annual festival takes place from 4 to 8 p.m. May 21 at the Holiday Courtyard, 150 S. Montezuma St. This showcase offers the community an opportunity to hear about the power of mentoring for both young people and adults, and how to become involved.
By invitation only, a donor appreciation meet-and-greet of the performers takes place from 2 to 3 p.m. The main event runs from 4 to 8 p.m. with tickets $10 for adults; 18 and younger get in free. Food, drink and prizes complement the entertainment and inspirational presentations about Boys to Men Mentoring Network.
Youth musical groups and individuals such as Sugar and the Mint, The Faultline, and Jake Cannon will play, as well as Arizona icons.
Walt Richardson contributes to the musical entertainment with his folk, reggae and rock, adding his African and Latin influences.
Gigi Conaway has played in some of the biggest arenas in the world, including gigs with Mariah Carey. He also has worked with Whitney Houston, Aretha Franklin and Steve Winwood.
Composer and arranger Marcus Weeden has a diverse, multi-instrumental background that provided him the opportunity to perform and record rock, jazz, funk, Latino, folk and country music. He plays bass with Richardson and several other musicians.
Drew Hall has been teaching guitar in the Prescott area for the past 22 years. He is a founding member of Big Daddy D and Dynamites, which performed together from 1999 to 2012. Currently, Hall is part of a Latin/Flamenco duo with Anton Teschner, and is lead guitarist with The CheekTones.
Boys to Men Mentoring Network provides boys ages 13 to 18 the opportunity to experience healthy adult male mentoring so they can see that their choices have consequences that can lead them to becoming the man they want to be.
Data and experience indicates a boy's ability to successfully transition into adulthood – regardless of economic class, cultural diversity and education – reduces risky behaviors and increases educational and earning potential. Available, appropriate role models lead to more intact families and fewer drains on public and social service systems.
To learn more about Boys to Men Mentoring Network, contact Charles Matheus at 928-499-0522 or email pif@boystomenaz.org.
SUBMIT FEEDBACK
Click Below to: