Originally Published: May 18, 2017 8:08 p.m.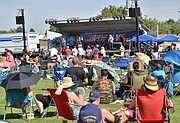 Battle of the Bands turns 20 years old this year and there's going to be a little bit of everything, said Prescott Valley Chamber of Commerce CEO Marnie Uhl.
"This year, we've got some blues going on, we've got country music … Funk Frequency, they play a disco sound, so we've got the disco sound going," she said, mentioning that the event also tends to fall on Armed Forces Day. "So we always start the day out with the national anthem."
The national anthem will be sung by Chamber of Commerce Executive Assistant Gloria Grose, Uhl said.
Held Saturday, May 20, at Mountain Valley Park, 8600 E. Nace Lane, the gate opens at 11 a.m. with the first band taking the stage at noon. It costs $4 to get in, with children younger than 3 and active military members getting in free. Those attending can come and go at any part of the day, Uhl said, stating that with how much the Chamber of Commerce and other radio stations are pushing the event, it's probably going to bring in more than 1,000 people.

Each of the bands represent a radio station which has chosen those bands, Uhl said, commenting that there are four main stations and since there are five bands, the extra band is rotated among the groups. This year, the D.L. Harrison Band represents 96.7 "The Wolf"; Funk Frequency represents 92.5 "Rewind"; R.D. Olsen Blues Band, Yavapai Broadcasting News Station 100.1; Instant Classics, Magic 99.1; and 99 Years, a Johnny Cash tribute band, represents Cattle Country KDDL 94.3. It's quite the variety, Uhl said.
Uhl said she enjoys being able to listen to five hours of music from bands that most likely she doesn't get to hear all the time, with a lot of them playing clubs or sometimes are performing in the Valley. Further, children or teenagers are able to come out and do the same because they're not able to see them in clubs or other areas, she said. Battle of the Bands really brings the family fun community together, Uhl added.
The bands compete for votes from the crowd, with attendees placing a vote for the band they want to win in boxes in front of the stage. Last year, Instant Classics won, she said, bringing up the two-year rule where a band can only play two years in a row.
"That's just to keep it mixing it up," Uhl said. "Sometimes the same band's won more than once. Sometimes one band won one year and they come back but another band will win the next year."
More like this story
SUBMIT FEEDBACK
Click Below to:
This Week's Circulars
To view money-saving ads...