Students receive $15,000 in scholarships from Prescott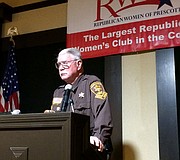 The selection was difficult, said Debra McVey, chair of the scholarship committee of the Republican Women of Prescott. The committee received 38 scholarship applications, narrowed that to 10 finalists, and gave out $15,000 worth in scholarships at the RWOP luncheon May 15 at the Prescott Resort.
The members also celebrated National Peace Officers Memorial Day and heard from Steve Edgars, victim of an ambush that took place in the northern reaches of Yavapai County in 2015.
The four top scholarship recipients each thanked RWOP members and gave two-minute speeches telling what they will be studying in college this coming year.
Each applicant submitted a 500-word essay comparing the Electoral College with the general election process, school transcripts, and a letter of recommendation. They all received framed certificates at the event.
"These students definitely deserve all of our support," McVey said.
YCSO Sheriff Scott Mascher talked about the agency's 300 volunteers who are trained in areas such as search and rescue, traffic control, and assist as back up for officers. Edgar, a YCSO volunteer and the keynote speaker, puts in about 120 hours volunteer service per month.
Edgar's talk dealt with the July 9, 2015, incident in which two suspects ambushed him in a remote area near Ash Fork, firing upon him with high-powered rifles. He walked the audience through the event as he experienced it, and played part of a 57-minute audio recording of the radio transmissions from that day.
"I found out afterwards that my actions were the only ones possible that allowed me to survive," Edgar said. One of those actions was to input his location in geographic coordinates before exiting his vehicle at a structure he described as "fortress."
"I couldn't have told anyone where I was," he said about the 110,000-acre Juniper Wells Ranch area in which many of the unpaved streets have no names.
He also decided not to retrieve some papers that blew out of his vehicle up toward the building. "I listened to the voices in my head that said leave them be. Otherwise, I would have been 20 yards closer to the shooter," he said.
After being shot in the hip, Edgar took cover behind a small rock pile. During a lull in the shooting, which he found out later was because of a malfunction of the shooters' guns, he was able to make his way back to his vehicle and leave the scene.
He had several words of wisdom to pass along.
"Take your training seriously. Be aware of your surroundings. Listen to the little voices in your head – better to be embarrassed than seriously injured or dead. Know how to defend yourself, get the proper training, and practice, practice, practice." At the end of his presentation, Edgar received a standing ovation from the room of about 350 people.
More like this story
SUBMIT FEEDBACK
Click Below to: