Column: Salesman or cheater, what I learned from an honest clown

Originally Published: May 16, 2017 6:01 a.m.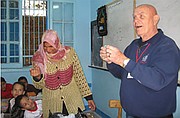 When I was a young man I worked for a chain of magic and novelty stores called Zeezo's Magic Castle. The company slogan was, "We Only Sell Fun."
It was a wonderful job for a teenage boy because I was able to learn and perform magic every day after school and earn money from commissions selling the magic tricks and novelties like disappearing ink and squirting cameras.
Zeezo the Clown was the owner of the store chain. His real name was Larry Campbell, and he was not only a successful businessman and entrepreneur, but also a master teacher, seeking to help his employees reach their highest potential.
The magic store and Zeezo's mentoring proved to be the perfect equation for me to achieve success. One day the employees were gathered for an annual event to recognize the top salesperson of the year. It was an honor to learn that I would be named as the leader in sales. I understood there would be a generous bonus check awarded during the ceremony. At 15 years old it was an unprecedented boost to my ego to have outsold seasoned adults.
During the awards presentation Zeezo openly praised me for my ability to gather an audience at the mall storefront and achieve such high sales numbers. With his polished bald head and bright wide smile he continued to address the audience as he slowly lowered a white envelope toward my anticipating hand. But just as my fingers started to close on the envelope Zeezo quickly jerked it upward, snatching it from my grip. Then turning to me, speaking only so that I could hear, he said, "You're very good as what you do, but if anyone ever walks out of one of my stores with something they didn't want, you will be out of here."
Turning again to the audience he made the envelope maneuver seem like nothing more than a playful joke, now handing me the check as the audience began to applaud.
Standing there at what should have been a moment of basking glory I felt all pride drain through my shoes and onto the floor. I didn't know it at the time, but I would later be thankful for this enigmatic moment of covert humiliation. Larry Campbell was looking beyond the moment.
He later explained he wanted me to remember that moment because it didn't matter how good a salesman I was, if I sold someone something they didn't want then I was cheating them — and no cheater would work for him.
I know now that he was trying to teach me to put integrity before greed and glory. It's a principle I have never forgotten and have always tried to inculcate in my employees and my own children.
It breaks my heart to see so many talented people using their God-given gifts to steal from others. Whether on the Internet, over the phone, door-to-door or through the mail, technology is fertilizing more scams today than any other time in history. I cannot comprehend how these people can go to sleep at night with any peace knowing they have cheated another human being for their personal gain.
I believe we have all been deliberately given specific divine gifts, skills and talents that were intended to uplift, enliven and enrich our lives and the lives of others. Each day we must choose between truth and deception, to serve or to self-serve. Imagine what kind of world this could be if everyone used their talents for good in their careers and hobbies.
As we strive to discover and develop our talents may we all reach for the paycheck that matters most.
---
---
Richard Haddad is Director of News & Digital Content for Western News&Info, Inc., the parent company of The Daily Courier. This column originally appeared as a blog entry on dCourier.com.
More like this story
SUBMIT FEEDBACK
Click Below to: