The selling of Jersey Lilly Saloon
Who bought it and who let it go

By
Max Efrein
|
mefrein
Originally Published: May 14, 2017 6 a.m.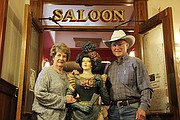 Letting go of something you've built and nurtured for many years can be a stressor in its own right, even when the time is ripe and you're paid $600,000 to do it.
"It's bittersweet," said Tommy Meredith, who recently sold his business, Jersey Lilly Saloon, to a trio of local businesspeople.
For 15-and-a-half years, Meredith and his wife, Joan, devoted much of their golden years to keeping up with the bar industry. Meredith, nearly 79, served as the saloon's general manager while Joan, 81, took care of the bookkeeping.
Why did they keep at it as long as they did?
"Because we liked it," Joan said. "Most of the patrons are like family."
In recent years, however, Meredith had been open to selling the business, especially when his wife had a medical scare about a year ago.
"When you get to the point of our age and you start talking about your future and even how many years you have left to enjoy things, or you get a sickness, it makes you look at the reality of the situation," Meredith said.
Though the saloon wasn't listed for sale, Susan Roberts and her son, Josh Makrauer, decided to approach Meredith with a purchasing proposition about two months ago.
Both have been patrons of the saloon for years and knew Meredith was itching to retire.
"He needs to play and we saw some potential for what we could do with this business," Susan said.
Roberts and Makrauer already own several businesses in town, including Apple Creek Cottages and a few apartment complexes.
What motivated them to make the offer on the saloon when they did was the willingness of their partner Andre Defreitas to serve as the general manager.
Longtime friends, Makrauer and Defreitas nearly opened a bar on Mill Avenue in Phoenix together about five years ago. Defreitas had about 10 years of experience in the restaurant and bar industries at the time and Makrauer had just graduated college with a business degree. After taking a step back from the plan, however, they continued other career paths. It was only until just a couple months ago that Defreitas said he disliked what he was doing, which was banking, and Makrauer proposed they pursue their dream again.
"I said why don't we go buy a bar," Makrauer said.
After a little negotiating, the trio and Meredith agreed on a price of $600,000 for the business, the liquor license and all of the related assets. The deal also came with an apartment suite located at the back of the building that Meredith had been renting out occasionally.
"Coming from the hospitality industry, that was very appealing," Susan said.
With Makrauer's business savvy, Defreitas' managerial skills and Susan's financial backing, they're feeling pretty confident they're in a good position.
"It will be a good mix, because they're young and aggressive and I'm a little older and more conservative," Susan said.
While they intend to keep much of the bar the same, including the employees, they have already begun making some changes to the way things are run.
For instance, they just put in a Point of Sale (POS) system to track drink orders better and provide quicker service to their patrons.
"We're bringing the systems up to 21st century," Roberts said.
They've also come up with some ways to better utilize the space. This includes knocking a hole in the wall behind the band stage to open up the room to a whole other space that Meredith had been using mostly for storage.
"We're going to set up a bar back here," Susan said as she showed the space.
This bar will be equipped with draft beer taps, which Jersey Lilly Saloon has never offered before. The space will also have room to play darts and chat while being able to hear the music.
"We're not looking for a different clientele, we're just looking for things for people to do," Susan said.
They hope to have all of these changes in place and tested by June 1, which is when they will be hosting a new ownership celebration party.
More like this story
SUBMIT FEEDBACK
Click Below to: