Prescott High senior adds subs to grad photos
Subway fan surprised with graduation gift at Prescott High School

By
Cindy Barks
|
Cindy_Barks
Originally Published: May 13, 2017 6:01 a.m.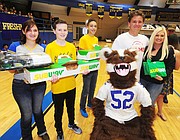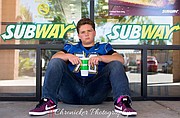 Zach Sweeney always knew he wanted to have unique senior photos, and by the time he started his freshman year at Prescott High School, he had something in mind: Sandwiches.
"I just like sandwiches a lot; they're individual in each person's needs," Sweeney explained after a Friday, May 12 Prescott High School pep rally at which he was presented with a host of gifts from Subway restaurants.
The Subway presentation came after Sweeney's senior photos and his love for sandwiches went viral online and on television on Thursday, May 11.
A big proponent of being himself, even if it means going against the trends, Sweeney said he wanted to show that individuality in his senior photos.
"I just wanted to be different," he said, noting that a lot of senior photos he has seen over the years were of kids posing in the forest. "And you just know that half of those kids couldn't survive a few hours in the forest," he said with a laugh.
When it came to showing his true personality in his senior pictures, Sweeney said Subway sandwiches were an obvious choice.
"When it's football season, I go to Subway every Friday," he said, estimating that his love of the submarine-sandwich shops goes back to when he was about 8 years old.
As a center on the varsity PHS football team, Sweeney had long adhered to a game-day tradition: A foot-long ham sandwich at Subway, and a smoothie from Robeks.
At senior-picture time, Sweeney and photographer Chad Castigliano of Chronicker Photography came up with the idea of going to the Subway restaurant on Iron Springs Road and getting some unique shots.
"He loves sandwiches; it's legit," Castigliano said Friday after the PHS pep rally.
Castigliano, who also photographs the popular Whimsical Woodsman series, said he recently posted some of Sweeney's photos on his Facebook page, and shared them around a bit.
What happened next took everyone by surprise.
Almost immediately, Castigliano began fielding calls from media outlets – first from ABC 15 in Phoenix, and later from other state and national outlets. By Friday morning, Castigliano said he had also heard from CNN.
All of the buzz also caught the attention of Alison Bailin Batz, a public relations executive for Subway in Phoenix.
"We couldn't help but notice the news yesterday," she said Friday. "(Zach) is making quite the stir for the city and for Subway."
Sweeney's idea of proclaiming his love for sandwiches through senior photos was "so funny, so brilliant, so different, that we had to come and surprise him at the pep rally today for the end of the school year," Bailin Batz said.
After coordinating with the high school and the local Subway franchises, Bailin Batz said the idea quickly came together to present Sweeney with a number of gifts, including his "weight in subs," a gift card, and T-shirt.
Although Zach knew his senior photos were blowing up online, he was completely in the dark about the PHS pep rally presentation. "Oh heck, yeah. That was nuts," he said afterward.
Zach's family members were on hand for the presentation, and they expressed little surprise about the sandwich love, or the viral photos.
"That's so Zach," said Kendra Sweeney, 20, of her little brother's love of sandwiches, or his desire to have unique senior photos. "None of us were surprised. He's super bold and not afraid to be himself."
Zach's mother, Joanna Sweeney, said the family encourages each of their four children to be themselves and to be different. "It's been a fun way of life," she said after the rally. "We're pretty proud of Zach."
She remembers her son gravitating to sandwiches because of the ability to be creative. "It's kind of been his thing, because he could change the outcome," she said.
Zach, 18, a lifelong resident of Prescott, plans to attend California's Victor Valley College, where he will play on the football team.
See more photos on Chad Castigliano's facebook page: www.facebook.com/chronicker
More like this story
SUBMIT FEEDBACK
Click Below to:
This Week's Circulars
To view money-saving ads...