Carnival attracts crowd at Prescott Valley Days (see event schedule)

Originally Published: May 13, 2017 6:01 a.m.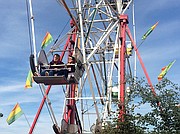 When school got out on Friday, May 12, Cody Turner and Bailey Wilmith figured it was a good time to hit the carnival at Prescott Valley Days.
"We live here and we were just coming from school," Wilmith said, "so we were like 'hey, why not go to the fair."
Wilmith said she was really looking forward to the tornado (ride) while other Prescott Valley residents Taylor and Ismael Cardenas wanted to ride down the slide with their daughter, Avery.
The two of them actually didn't know that there was more than a carnival, Taylor said, speaking of the beer garden, open air vendors, music and fiesta food.
Prescott Valley Days schedule
(Unless otherwise noted, the events are in the Prescott Valley Entertainment District.)
Saturday, May 13
• 9 a.m. – Prescott Valley Days parade begins; "Good Times in Prescott Valley" is the theme. The parade starts at Yavapai and Florentine and goes to Main Street and Florentine, near the Entertainment District.
• 10:30 a.m. – Pancake Breakfast
• 11 a.m. – Open Air Vendors
• 11 a.m. – Carnival opens
• 5 p.m. – Live remote by KVRD 105.7FM
• 5 p.m. – Beer Garden Opens
• 5-7:30 p.m. – BBQ
• 6 p.m. – Live Music with Danny Romero & the Arizona Territory
• 9 p.m. – Matchstick Rush Fire Show
Sunday, May 14
• Noon – Carnival opens
Salute to Heroes is 10:30 a.m. to 3 p.m. Saturday, in the Event Center parking lot, including:
• 11 a.m. with registration at 10 a.m. - Stair Climb inside the Event Center
• Exhibitions by police, fire, SWAT, EMS and K9
• Guidance Aviation helicopter rides.
• 3 p.m. - Bigfoot Monster Truck Show
"We just walked up and down it just a second ago," she said, noting that they were all enjoying themselves so far.
Avery had her face painted by Diane Bush of Children's Party People. Bush said she's been painting faces for a long time and enjoys coming to events like Prescott Valley Days. As a retired teacher, it's how she gets her "kid fix," she said.
Children's Party People, which will also be there on Saturday, changes the stock examples of what they offer every year, Bush said. Cheek art is $5, half face is $6, whole face is $8 and custom art is $10, she said.
"We haven't raised the prices since we started," Bush said, commenting that the "prices are pretty reasonable."
Also a vendor was Martin Olvera, selling all different kinds of rocks that he and his wife have picked up, cut and polished. Olvera said he's been doing it since he was a kid.
It's addicting, with picking up rocks that he's never picked up before how he started doing it, he said.
Olvera lives in Humboldt and said he was asked to be a vendor at Prescott Valley Days. The two of them didn't have a show going on at the time, so they figured it was a good time to do so, he said, adding how much he loves rock hounding.
"It's a beautiful trade. Being a kid, we used to go out mining in Mexico all the time and I just love cutting, polishing any kind of rock," Olvera said. "We have geodes, jasper, onyx, obsidian, anything you can think of."
With an en eclectic mix of nonprofits and for-profit businesses making up the vendors, along with the carnival and everything else Prescott Valley Days has to offer, it all makes for a good showing, said Prescott Valley Chamber of Commerce CEO Marnie Uhl.
"We've got the best music in town all weekend long, we've got the best food in town and the carnival's going to be awesome," Uhl said.
Prescott Valley Days continues Saturday and Sunday, May 13-14.
More like this story
SUBMIT FEEDBACK
Click Below to: