PUSD Board and administration honor those who 'Go the Extra Mile'
Originally Published: May 12, 2017 5:55 a.m.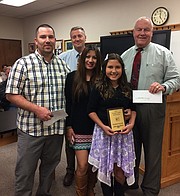 Prescott Unified School District administrators and board members celebrated some key accomplishments of both students and staff at the final board meeting of school year on Tuesday night, May 9.
The first award presentation was for Abia Judd Elementary fourth-grader Toni Ann Harris who earned fourth place in the Yavapai County Spelling Bee. She was awarded a plaque and gift certificate from Yavapai County Schools Superintendent Tim Carter who praised her participation as one of 55 contestants.
Going the extra mile
The second major district honors were the annual "Going the Extra Mile Awards" given to 10 staff members honored by their peers for "going the extra mile" for students and staff members.
Award winners
Jeff Becher, a first-grade teacher at Abia Judd Elementary: Nominated by Beth Steen, Lori Markham and Melissa Scott.
"He builds a positive rapport with students, parents and colleagues. He is a role model for all staff members; individualizes instruction; works with each child at his/her instructional level; chose education as a second career after volunteer experience in his grandson's classroom."
Daniel Bullara, district behavioral specialist: Nominated by Ryan Keim.
He has the "compassion and demeanor to create lasting relationships where many others may encounter frustration and hardships; goes above and beyond working extra hours every day, making sure all students receive nutrition, a shoulder lean on, a laugh in a difficult situation and an opportunity to learn from his experiences."
Kelly Gallagher, Granite Mountain sixth grade English Language and Social Studies teacher: Nominated by Emma Gifford: "Kelly Gallagher is that teacher … That teacher who always volunteers the extra hours, that teacher who tutors before and after school, that teacher who shows up to help out, that teacher who agreed to meet the parent at an odd hour because it was all they had, that teacher who makes her room comfortable for learning, that teacher who helps students connect their learning to the world around them."
Debbie Hammer, Prescott High School art teacher: Nominated by Courtney Check: "I hear the joyful sounds of students learning about art; the whirr of a potter's wheel, the bonk of a leather awl" as students discover their true creative potentials; a team player at school as well as in the community."
Jennifer Harte: Nominated by Debra Prieto, Cheri Baumgartner and Jerry Prieto:
"Under Jennifer's leadership and dedication, the Family Resource Center is truly a vital resource valued by our families and community; Jennifer has taken the 'extra mile' in supporting students' individuality; she strives for success because she believes in our students."
Barb Hoppes, Prescott High School paraprofessional who will retire at the end of this school year: Nominated by Joey Gregory and the special education team: "A paraprofessional for 20 years … Barb's exemplary work ethic sets the bar high for others to strive for … an uncanny ability to stay super focused on the needs of each child…attends school events outside work hours such as sporting events, performances, chaperoning the high school prom and even riding in a limo with
special needs kids to their special prom."
Lori Markham, Abia Judd Elementary first grade teacher: Nominated by Jeff Becher, Beth Steen and Dee Yeager: A 21-year Abia Judd veteran teacher, Lori "helps provide institutional memory … she works diligently to ensure each child is provided a quality and motivating educational experience … zeroes in on instruction and activities that engage students in learning, which is important for all students ranging from academic strugglers to gifted, and everyone in between … she seems to find her reward in the good that it does."
Emily McHale, Prescott Middle School eighth-grade Social Studies teacher: Nominated by Robin Andre: "A second year teacher yet you would never know it; single handedly built a leadership program that has been instrumental in creating a culture that promotes school spirit and connectedness … she has tackled her class with the same amount of gusto, bravely taking on lessons that would intimidate even the veteran teacher."
Lanette Merkt, a Discovery Gardens pre-school teacher: Nominated by Kaitlin Buckmaster: "An exceptional teacher … invited new staff to home for holidays and breaks … Lanette is also attending graduate school while giving
her time to help new teachers through the first year; a great role model.
Ashley Wheeler, Abia Judd Elementary fourth grade teacher: Nominated by Daniele Rosellini, Angie McElfresh, Dee Yeager: "Excellent, well-organized math teacher; her friendliness and supportive nature are appreciated by all her teammates; She took on the responsibility of coordinator of Abia Judd's after school activities program which she operates with great efficiency … she is a true gift to the fourth grade team and to the entire school."
More like this story
SUBMIT FEEDBACK
Click Below to:
This Week's Circulars
To view money-saving ads...