The police pursuit: Tactics used when suspect flees
Originally Published: May 12, 2017 6:01 a.m.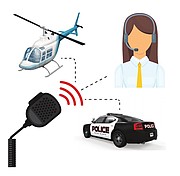 EDITOR'S NOTE: This is Part 1 of a two-part series involving police pursuits and how local departments approach them safely.
A whole generation of adults grew up on 1970s television cop shows that inevitably included wild, dramatic chase scenes. Or maybe they watched the even-less realistic "Dukes of Hazzard," with weekly chases through the countryside.
The reality is somewhat different.
Even some of the techniques seen on the long-running ride-along show, "Cops," are no longer used by local law enforcement.
A pursuit starts when an officer attempts to pull over a car by turning on the overhead flashing lights, Chino Valley Police Lt. Vince Schaan said. If the car does not stop, then "the officer activates their siren and notifies dispatch and other unit of the pursuit."
PIT Maneuver
The PIT (which variously stands for Pursuit Intervention Technique or Precision Immobilization Technique), a favorite of reality shows, is not authorized for use by most area law enforcement agencies; Chino Valley Police Department is the exception, and State Troopers can use it "if they can articulate the need to get the vehicle stopped quickly," said DPS spokesman Kameron Lee.
The PIT requires a pursuing police vehicle to come up very close to the fleeing vehicle, and then bump it in the rear-quarter panel, which (theoretically) causes the suspect's car to spin out and sometimes stall.
It's effective – though not always and not on all vehicles – and it comes with a level of risk to the officer attempting it.
Prescott Police spokesman David Fuller said practicality rules out the use of the PIT,
because "many of our streets are small and lined with sidewalks and houses and businesses. To use the maneuver … would potentially endanger the public and surroundings."
Spike Strips
Another fairly well-known tool, the spike strip, also known by the brand Stop Sticks, is also used less these days.
Spike strips are exactly what they sound like: a strip of plastic or metal that holds sharp spikes intended to deflate a vehicle's tires.
"We rarely deploy Stop Sticks anymore," Prescott Valley Police spokesman Jason Kaufman said. "This put the deploying officer in harm's way."
That's because the officer is required to throw the spikes out from a position very near the traffic lane and just ahead of the fleeing vehicle, then stay nearby to pull them out of the way of pursuing police cars.
Doing those things exposes the officer to being struck by traffic, the suspect's vehicle or even police vehicles.
Nevertheless, the Yavapai County Sheriff's Office, DPS, Prescott Police, and Chino Valley Police do authorize the use of spike strips, and Fuller said officers participate in training to be authorized to deploy them.
"They look like fun, from the TV, maybe, but they're really not"
State Trooper Kameron Lee said that, when a driver fails to stop for him, a lot is going through his mind.
"When they don't stop … the first thing I'm thinking is, 'Why?'"
Troopers only pursue vehicles for hazardous operation, such as excessive speed, or if they have reason to believe the driver is wanted by police, but, Lee said, when he's tried to stop cars for speeding and a pursuit resulted, it has turned out that the driver had drugs in the car, or the driver had an outstanding warrant, or another reason for running.
"We've also seen it where that person has just committed a crime," he said, which he might not know when he first sees a car speeding.
Lee's next goal, once he begins pursuing someone who won't stop, is to relay to his dispatcher all the detail he can – the color, make, and model of the vehicle, how many people are in it, where he is, how fast he's driving – "so other troopers can start getting their resources together to help me."
He prefers to have another officer behind them, because then, the second trooper can "call the pursuit," or make reports via radio, and he can concentrate on what's going on ahead of him.
Lee said, "(Pursuits) look fun from the TV, maybe, but they're really not. They are very stressful."
Terminating pursuits
Pursuits in populated areas are routinely terminated shortly after they are started, because, if the suspect begins driving erratically and unsafely, a pursuit can endanger people and property.
"Deputies and supervisors always must weigh the risk to the public and the safety of deputies against any pursuit," YCSO spokesman Dwight D'Evelyn said. "Additionally, deputies and supervisors also weigh the nature of the criminal activity and the risk or threat to the community if a particular perpetrator escapes."
Kaufman agreed, saying, "Pursuits are dangerous for all the parties involved."
"(DPS) will stay in a pursuit until that person gets into heavy traffic, or starts to drive in such a manner, that it's really going to cause a danger to the public," Lee said, and a helicopter over the chase makes it possible for troopers to back off and slow down in the hopes that the suspect will also slow down while the aircrew still watches where he goes.
A common phrase, "They can't outrun Motorola," points out that the police radio can also be a powerful weapon in apprehending suspects who run.
And for those who think of running from police in the same breath as the phrase "joy ride," Fuller reminds them that fleeing from a police vehicle with lights and siren activated is a felony.
See Part 2: 3 deaths in 2001 police chase led to widespread procedural changes
Related Stories
More like this story
SUBMIT FEEDBACK
Click Below to:
This Week's Circulars
To view money-saving ads...