Chew on this: Atmesfir, keeping it simple with quality ingredients

By
Max Efrein
|
mefrein
Originally Published: May 12, 2017 6 a.m.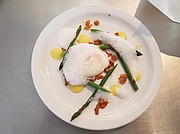 Striving to live up to the idiom 'small but mighty', Atmesfir is limited, yet boundless; delicate, yet bold; local, yet worldly.
Started by local chef Paul Moskvich, the recently opened restaurant joins the growing social movement pushing for food to be local, fresh and quality forward.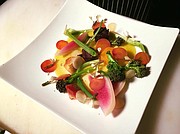 "I think it's just something that Prescott has been asking for," Moskvich said. "A lot of people talk about eating a little bit healthier or having some different options, but a lot of the menus around town are very similar."
Moskvich had been working toward that end to some degree with his previous Prescott restaurant, Nastee Dogs, but kept running into barriers with the health department in regards to his business being properly suited for commercial cooking.
Essentials
Where: Atmesfir, 232 S. Montezuma St, Prescott
Tickets: $15
Contact: 928-445-1929
Website: atmesfir.com
Faced with a deadline to put in a hood system if he wished to continue serving on-site cooked food, he decided to close Nastee Dogs and start fresh at the same location.
He found some investors, recruited a small team of friends to help him build a new vision, and spent the next six months remodeling the space. This included installing the hood system and building an Americans with Disabilities (ADA) compliant bathroom.
A key part of the process was getting his friend Joon Sung to agree to serve as the head chef.
"Instead of being arrogant and putting my name first, I looked at it as an opportunity to kind of step back and have a chance to learn," Moskvich said.
Sung spent several years cooking for fine dining restaurants in California before moving back to South Korea where much of his family lives.
When he came to Prescott at Moskvich's request and saw there were no restaurants offering what he could dish up, he decided to give Moskvich's idea a shot, he said.
The mission: focus on using in-season, local produce to make fun, tasty food with French techniques and fine dining flair.
"It's all about ingredients," Sung said. "If you don't have good ingredients, you have nothing. That's where it starts."
They quickly established business relationships with local food producers. They now get all of their vegetables from Whipstone Farm in Paulden; all of their eggs from the neighboring Ridgeview Farms; and all their beef from L Bell Ranch in Skull Valley.
The menu, while small in size with only about 10 items to choose from, provides colorful options and is updated frequently.
"We're changing it like two to three times a week depending on what we get from the farms," Moskvich said.
One of their most popular menu items so far is the Whipstone Farms Vegetable Plate ($9), Sung said.
The dish is a medley of vegetables provided by Whipstone Farm that are prepared in various ways and topped with a honey lemon emulsion sauce.
"Very simple, but we want to highlight the ingredients," Sung said.
Another locally-sourced dish consists of Whipstone Farm asparagus served with a boiled Ridgeview Farms egg and topped with Parmesan, lemon and brioche crumble ($12).
"The egg is slowly cooked at 65 degrees Celsius (149 degrees Fahrenheit) for one hour, so the yolk and the white is the same consistency," Sung said.
While they intend to get a liquor license soon, a BYOB (bring your own bottle) policy is currently in place — there is no corking fee.
Reservations are accepted for parties of six or more. On weekends and holidays, it is recommended to either make a reservation or arrive early, for there are only six four-top tables.
SUBMIT FEEDBACK
Click Below to:
More like this story