Phippen, Perkins Drive roundabouts coming

By
Cindy Barks
|
Cindy_Barks
Originally Published: May 11, 2017 6:01 a.m.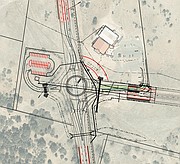 Fans of traffic roundabouts will have reason to celebrate this spring.
Opponents of the circular, signal-less intersections, however, might have a different reaction.
By late spring/early summer, two separate widening projects on Highway 89 — each including a roundabout — are scheduled to go out for bid.
The City of Prescott is expected to seek bids for its widening/roundabout near the Phippen Museum by late this month, while the Arizona Department of Transportation (ADOT) plans to advertise for its widening and roundabout at Perkins Drive intersection (near the city's Antelope Hills Golf Course clubhouse) soon after.
Construction expected soon
Tim Sherwood, capital projects manager for the city's public works department, said construction on Prescott's nine-month widening/roundabout project could be underway by late June or early July. Meanwhile, minimal utility work also will take place.
The $3.9 million project, which along with the roundabout will include widening about a mile to a mile-and-a-half of Highway 89 to four lanes and a new trailhead for the Constellation Trails, is expected to be complete by the end of March 2018.
The city's project will run from near the passing lane just south of the Phippen Museum to about the Highway 89A interchange.
From there, the ADOT project will continue north to about the Deep Well Ranch Road intersection.
ADOT District Engineer Alvin Stump noted that the state's estimated $15 million widening project would include a new roundabout at the Perkins Drive/James Lane (to the west) intersection. The project also will include additional widening at the Highway 89/89A intersection.
The proximity of the Phippen and Perkins roundabouts is not a concern, Stump said, noting, "Actually, it's one of the good things about roundabouts – you don't have to be as concerned about spacing."
Driving factor: Safety
Both City of Prescott and ADOT officials emphasize the safety aspect when talking about the need for the roundabouts.
Prescott Traffic Engineer Ian Mattingly pointed out that the city project would result in "improved traffic flow in the area, safer turning movements, and calming to transition cars from the four-lane section of road to the remaining two-lane configuration through the Granite Dells."
City officials have stressed the current dangerous situation at the Phippen Museum/Constellation Trailhead, where vehicles often have a difficult time exiting and entering from the highway.
Mattingly reported that a number of collisions have occurred at or near the site over the past five years. City records show: Three rear-end collisions in 2016; three collisions (improper turn, a deer, and a sideswipe) in 2015; one sideswipe in 2014; two collisions (a deer, and speed-related) in 2013; two speed-related collisions, including one fatality, in 2012; and one speed-related accident in 2011.
Stump also stressed safety: "The main advantage is the safety element. Roundabouts drastically reduce the serious crashes."
Noting that upwards of 60 roundabouts currently exist on state highways, Stump says a shift has occurred in public views. Compared with the resistance that ADOT faced 15 years ago, he said, "I feel like the complaints are in the minority. There's definitely been a shift, and (roundabouts) have a lot more support."
Local residents' take
Local residents also talk about the safety aspects of roundabouts, although their perspectives can vary.
Al Williams, a nearly 30-year resident of Prescott, maintains that the safety comparison of roundabouts vs. traffic signals isn't even close.
"If you check at the national level, roundabouts are 70 to 80 percent safer, which is big," said Williams, a retiree with a background in traffic engineering. "That is my major reason for supporting them."
As a driver, Williams said he especially appreciates "the fact that delays are almost non-existent compared to a signal."
Jay Hingst, on the other hand, suggests that traffic experts are not looking at the big picture when they evaluate the safety of roundabouts.
"Everybody's talking about one thing – safety," said Hingst, a Prescott Valley resident since 2003. "But how would you like to be in the back of an ambulance and have to go through a bunch of the roundabouts?"
Hingst also maintains that the presence of roundabouts will drive away business. He says he avoids shopping in towns that have numerous roundabouts. "I'm sure I'm not the only one," he added.
BY THE NUMBERS
• 90% reduction in fatal crashes
• 75% reduction in injury crashes
• 30-40 percent reduction
in pedestrian crashes
• 10% reduction in
bicycle crashes
• 30-50% increase
in traffic capacity
— Insurance Institute of Highway Safety
Development aspects
Along with providing improved entrances to public spaces such as the Phippen, Constellation Trails, Antelope Hills, both of the new roundabouts will offer access to new or pending development.
The city's Phippen roundabout was planned, in part, to provide access to planned development to the east. A development agreement between the city and the developer for the new Walden Ranch made the subdivision responsible for a pro-rata share of the cost of the roundabout.
Prescott Public Works Director Henry Hash said in late 2016 that the amount is based on projected traffic flow from the new 215-lot subdivision, and would likely total about $100,000.
Stump said the Perkins Drive roundabout would provide access to James Lane, which will connect with Willow Creek Road.
Related Stories
More like this story
SUBMIT FEEDBACK
Click Below to:
This Week's Circulars
To view money-saving ads...