100 and still going strong
Prescott area centenarians share secrets to longevity

By
Max Efrein
|
mefrein
Originally Published: May 6, 2017 6:02 a.m.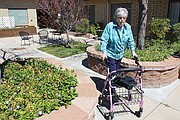 Living to see 100 years of life is no longer much of a novelty.
"It's becoming a lot more commonplace now," said Dr. Sam Downing, the director of outpatient palliative medicine for Yavapai Regional Medical Center physician care.
In 2010, there were about 53,000 centenarians in the U.S., a nearly 6 percent increase from 2000 census data, according to the U.S. Census Bureau.
Being the famous retirement location Prescott is, there are quite a few such individuals living right here in the Quad-Cities, and some of them were willing to share what they believe has attributed to their longevity.
Attitude and faith
Orville Woiwod moved to Dewey-Humboldt in 1972 from Iowa.
A farm boy who served in the U.S. military during World War II, Woiwod has always managed to find appreciation for the simpler things in life while also stepping up to the plate when he saw the opportunity to lead.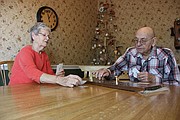 "It always seemed like I was in the right place at the right time," Woiwod said.
One thing he has consistently leaned on throughout his long life is his faith.
"I started each day with the lord at my side and away I went, and I kept going," Woiwod said.
Next to God, he believes attitude is the key to making it as far as he has.

"Always have a positive attitude," Woiwod said. "You don't dare have a negative attitude. That's where people get into trouble. To me, everything is fine."
That doesn't mean he's neglected his health, however.
"He's always exercised," said his wife, Jackie Jensen. "He also doesn't eat any artificial food or overeat."
"Lots of red meat, bacon and eggs," Woiwod said. "All the good stuff."
Dr. Downing is a firm believer that staying active is vital to not only a long life, but also a quality one.
"It's not really asking yourself, 'do I want to live to 100?'" Downing said. "It's more like, 'if I do live to 100, how can I enjoy the best quality of life?'"
Social connectedness
This last march, Doris Smith reached 106 years old.
She doesn't attribute anything in particular to living so long.
"You don't have any choice about it," Smith said. "It's just what happens to you."
She has, however, made the most of her later years by contributing to her community and getting involved as often as she can.
Several times a week, she'll take time to be a greeter at the entrance of Samaritan Village — where she lives — and help out in the facility's gift shop. She also maintains her longtime membership with the Daughters of the American Revolution.
And though she has outlived many of those she has cared for over the years, she has continued to make new friends when she can.
Staying engaged like this has been shown to be extremely beneficial to maintaining the cognitive health of individuals, Downing said.
"Clearly, there's tons of data out there now that identifies social connectedness being really a valuable asset in longevity," Downing said. "Research has been done on resilience and how people get through difficult times. The answer to most studies that look at what allows people to be resilient is how well they are connected socially."
Picking the right parents
Anna Parker and Emma Weiss are about to experience something very few in the world ever even imagine taking place: identical twins turning 100 together.
Though equal in years, they both lived very different lives.
"[Emma] had more of a sedate life," Anna said. "I've had a lot of experiences. I smoked. I never drank to excess, but I love bourbon."
With this mind, she credits genetics for their shared longevity.
"We come from a long-lived family," Anna said. "I think we picked the right parents."
From Downing's experience as a physician for the last 30 years, he supports this conclusion.
"I would say what influences longevity the most is genetics," Downing said.
Medicine
Of course, advances in medicine have done a great deal in recent history to keeping people alive longer.
"If we looked at what people died from 100 years ago, it was mostly infectious diseases," Downing said.
That has changed significantly as cures and treatments have been developed just since the 1940s.
"Even now, when we have heart disease as a leading cause of death in this country because of diets and lack of exercise and smoking and things like that, we now have procedural and medical interventions that can delay the onset of what I what I would call terminal heart disease," Downing said.
More like this story
SUBMIT FEEDBACK
Click Below to:
This Week's Circulars
To view money-saving ads...