Vanishing Taps: Bugle players who can sound 'Taps' at funerals are in short supply
Originally Published: May 2, 2017 6:03 a.m.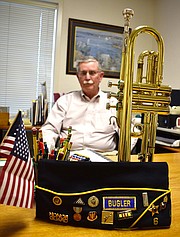 No words ...
There are no official lyrics to "Taps," but this is the most recognized version:
Day is done, gone the sun,
From the lake, from the hills, from the sky;
All is well, safely rest, God is nigh.
Fading light, dims the sight,
And a star gems the sky, gleaming bright.
From afar, drawing nigh, falls the night.
Thanks and praise, for our days,
'Neath the sun, 'neath the stars, neath the sky;
As we go, this we know, God is nigh.
Sun has set, shadows come,
Time has fled, Scouts must go to their beds
Always true to the promise that they made.
While the light fades from sight,
And the stars gleaming rays softly send,
To thy hands we our souls, Lord, commend.
-written by Horace Lorenzo Trim
It's a tune just 24 notes long, but it can send shivers down your spine and bring a crowd to tears.
"Taps" is the traditional music played by a lone bugler at the gravesite of a military service veteran.
But for years, the ranks of people available to play the lonesome tune have been dwindling.
Nowadays, many players who perform at funerals aren't playing at all, but holding a "digital horn" and acting as though they're blowing the horn while a recording issues forth. Also allowed, per military protocol: a recording played from a "boom box."
"The Department of Defense has mandated that the branch of service that the veteran served in provides, at a minimum, a two-man detail, and that includes the playing of taps," said retired U.S. Marine John Parent, a member of the Mingus Mountain VFW Post 10227. "Generally, what they use is an electronic bugle."
"It's going to be extremely difficult to find a military service member who can play a bugle," he continued. "The military services have been stretched so thin, with all the deployments to Iraq and Afghanistan, that it's hard."
An Illinois man has made it his objective to ensure that as many funerals as possible have a bugler playing live taps.
Tom Day founded Bugles Across America 17 years ago, when that mandate for a two-person detail was signed into law.
Now, Day has 5,000 players around the country who have auditioned to have the right to volunteer to play at a veteran's funeral.
"Our youngest is 10 and our oldest is 90, and we are doing 2,300 funerals a month," Day said.
He said that, when someone requests a bugler via the website, BuglesAcrossAmerica.org, they send out notices to their volunteers within 100 miles of the requestor.
"Whoever takes the mission, will then contact the people… and they'll show up 45 minutes early and work out any details with the military and sound live 'Taps'" at no charge, Day said.
Day added that they "never have enough people, because not everybody can make every mission."
He said the active duty military's budget woes meant that it "cut back the people doing the funerals with the National Guard and Reserves to two people … and they use a recording (of 'Taps')," Day said. "If the batteries (in the horn) are good, you'll get a nice sound, but the people are embarrassed to do that."
He said that there had been instances of the electronic units falling out of the trumpet or bugle, which caused an obvious breach of decorum.
One bugle player who works with Bugles Across America is Prescott resident John Stevens. The 76-year-old U.S. Air Force veteran has been sounding taps for 16 years in the Prescott area, mostly for Prescott's American Legion Post 6.
Over the years, Stevens estimates he's performed "Taps" at more than 500 ceremonies.
"It's an honor, absolutely, still an honor," he said. His first one was in 2001 at the Prescott National Cemetery.
He feels the digital horn is "a very poor substitute for the real thing, but the digital horn is probably superior to what used to be used—a boom box."
Bugles Across America is always looking for people to audition to play, and, of course, they'll be happy to have someone play at a veteran's funeral if asked.
"A veteran deserves a live horn player," Day said. "Real breath, from the heart."
Related Stories
More like this story
SUBMIT FEEDBACK
Click Below to: