Prescott businessman killed
Salazar struck by vehicle while on motorcyle
Originally Published: May 2, 2017 6:01 a.m.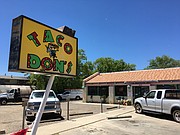 A motorcyclist who was struck and killed on Iron Springs Road near Skull Valley, Friday, April 28, was a well-known local businessman.
Just before 12:30 p.m., Jayme Salazar, 51, was hit by a pickup truck as he rounded a curve, headed north on Iron Springs.
"Initial indications are that the female driver of the pickup, in her 50s, may have over-corrected, causing her to enter the northbound lane and strike the motorcyclist," Sheriff's spokesman Dwight D'Evelyn said.
He said that Salazar was not wearing a helmet.
Salazar was a co-owner at Prescott Tire Pros and owner of Taco Don's on Miller Valley Road.
A memorial sprang up at the Taco Don's, which was closed over the weekend, in honor of Salazar, with brightly colored flowers and condolence messages written on the restaurant's windows.
Monday morning, a customer, Tom Baade, said, "Been coming here for years — a good friend of mine. One of the best guys I know. He's friendly, very friendly.
"He's one of the best businessmen I've ever met," he added.
"Speed is likely a consideration as one of the causal factors, but the investigation is ongoing," D'Evelyn said, noting that the investigation will "take time."
"We will be submitting an overview to the County Attorney for recommendations – if any," D'Evelyn said.
Salazar's friend, Michael Hill, has organized a motorcycle ride to Salazar's burial mass in Cottonwood, he said in a Facebook post.
The ride leaves Taco Don's at 8 a.m. Saturday, May 6, and will travel to Conception Catholic Church, 700 N. Gray Road, in Cottonwood.
Related Stories
More like this story
SUBMIT FEEDBACK
Click Below to: