Chew on This: Marino's Mob Burgers and Ice Cream

By
Max Efrein
|
mefrein
Originally Published: March 30, 2017 8:29 p.m.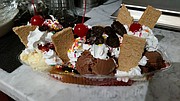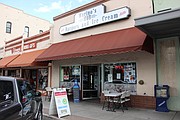 Welcome to the 1920s, please seat yourself.
That's how customers are greeted when they walk into Marino's Mob Burgers and Ice Cream.
The themed sit-down restaurant and ice cream parlor has been open along Cortez Street in downtown Prescott since July 2015, and is all about providing a fun, family-friendly environment.
"Our biggest thing is bringing more fun to the Square, because it is already amazing," said Sherry Marino, who owns the restaurant with her husband, Dave.
The couple acquired the downtown space in late 2013, soon after Kendall Jaspers closed the 26-year-old Kendall's Famous Burgers and Ice Cream. Before Kendall's, the shop was called Dent's ice cream parlor for many years; and before that it is believed to have been a bakery.
Enthralled with the building's rich history as a community space to eat and chat, the Marinos have worked diligently to revive as much as they can. This included spending 16 months stripping the interior down to its original wood-paneled surfacing while also bringing everything up to code before opening.

This extensive construction period gave the couple plenty of time to develop a general theme and feel for their restaurant.

They settled on going with a 1920s look because it was different than they've seen in the area.
"There are already a lot of restaurants dedicated to Prescott and its history back way when, so we needed something to stick out," Sherry said.
To make the theme come alive, they have all of their employees dress in 1920s garb — imagine flappers and mobsters — and have 1920s paraphernalia plastered along the walls.
"They (the employees) definitely know it when we hire them that you not only have to provide great customer service, you also need to play the part," Sherry said. "They even have a two-to-three pager with all of the different slang from the 1920s."
That slang and historical reference is present throughout the menu as well.
Entrees include The Great Gatsby, Bugsy, The Marino and Baby Face. The alcohol — a recent addition – is referred to as giggle water in the form of hooch (beer) or grape moonshine (wine).

"The menu is very creative," said customer Kevin Hernke.
Starting this coming summer, the owners hope to also have their employees trained to perform 20-second dance routines from the 1920s during busy dining hours.
"We'll do like the Charleston and whatnot just to rev up the customers," Sherry said.
Given it's a family restaurant, the pricing is reasonable. Very few items are more than $10 and the kids' menu is purposely priced lower than usual so families wishing to dine out aren't too significantly burdened.
"Anybody who has had kids or who has ever brought kids out anywhere knows that it's a fortune just to get them all a burger and ice cream," Dave said. "It's crazy. So we make sure everything is just a few dollars."
In addition to that, the owners and their employees started a fund soon after opening. Every once in a while, the owners, manager or servers will contribute some money to the fund. That money is then used whenever a kid or someone in need comes in and clearly can't afford to buy something to eat.
"A lot of times three or four kids will come in here and maybe one or two of them doesn't have any money, so they just kind of stare at their other friends eating, so we'll use the fund money to get them food," Dave said. "You realize who it is and you realize they're not trying to get anything over on you, they just need help."
More like this story
SUBMIT FEEDBACK
Click Below to: