I-40 pursuit suspect escapes, shoots at deputies
Originally Published: March 27, 2017 2:46 p.m.
Updated as of Monday, March 27, 2017 5:07 PM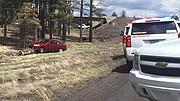 UPDATE: See story - Fleeing suspect in I-40 pursuit caught, gun missing
A pursuit on Interstate 40 Monday morning, March 27, ended with a crash near Williams, two of three suspects running from the smashed car, and one suspect escaping while firing at Sheriff's as he ran, said Dwight D'Evelyn, YCSO spokesman.
It happened about 10:45 a.m., when a deputy tried to stop a sedan occupied by three men, headed east on I-40, for a traffic violation near Ash Fork.
"As the vehicle failed to yield, a male passenger appeared to be thrown from the vehicle and was detained," D'Evelyn said. The car had been reported stolen from a Kingman address.
The pursuit continued at over 100 mph, until the car stopped running, pulled off I-40 near the Bearizona exit, and crashed into a culvert.
Two men emerged from the car; one was captured quickly. The other man fired at least one shot toward deputies from a handgun as he ran.
D'Evelyn said that suspect is 31-year-old John Freeman, 6 feet tall, 170 pounds, with hazel eyes, brown hair, and a small tattoo on his left arm. He may be wearing a denim shirt and denim pants, and may be injured.
Several law enforcement agencies were searching the area around milepost 165 Monday afternoon.
D'Evelyn said there is a warrant issued for Freeman's arrest in Kingman.
He's presumed to be armed and dangerous, and schools in the Williams area were locked down Monday afternoon.
More like this story
SUBMIT FEEDBACK
Click Below to: