Fake OxyContin linked to 6 deaths in Yavapai County, Medical Examiner says
Drug laced with more powerful fentanyl represents fatal danger
Originally Published: March 25, 2017 6 a.m.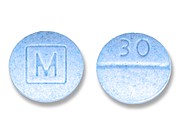 The Drug Enforcement Agency this week issued a notice that pills purported to be OxyContin but containing the more potent drug fentanyl are behind dozens of overdose deaths in Arizona.
The pills are manufactured by Mexican drug trafficking organizations, and sold on the illicit drug market, according to the DEA.
Fentanyl is 100 times stronger than morphine, the agency said.
In Yavapai County, the Office of the Medical Examiner has seen six deaths, believed to be accidental, yet attributable to fentanyl since January 2016.
"There are some deaths … with very high fentanyl toxicology levels and no history of suicidal ideations," said Mike Sanders, an investigator in the office. "There is an increase in fentanyl intoxication (deaths) here."
The DEA has yet to investigate counties other than Maricopa for the fake OxyContin pills, spokeswoman Erica Curry said. "We thought it was big enough to go ahead with Maricopa County, and then we're going to go ahead with some additional analysis later."
The statistics in Maricopa for 32 cases identified as being attributable to fake OxyContin:
• The average age at death is 35 years, with a range of 16-64 years old; 
• The average age at death for females is 37 years and for males it is 34 years;
• 50 percent of the people who died were white, 38 percent Hispanic;
• 75 percent of those who died were men.
"Manufacturing these pills using extremely deadly substances like fentanyl is a reflection of the depravity by which Mexican drug traffickers operate to further their profit margin," said Doug Coleman, DEA special agent in Arizona. "Mexican (drug makers) are pushing these deadly substances into the illicit drug market to expand their business among the already increasing opioid-addicted population.  People are dying across the country and here in Arizona."
Related Stories
SUBMIT FEEDBACK
Click Below to:
More like this story