Duck sign tweet causes mass wave of guilt
Sign about not feeding ducks bread goes viral
Originally Published: March 25, 2017 6 a.m.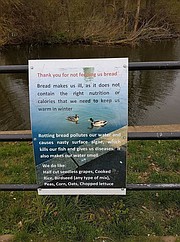 A park sign warning visitors about the dangers of feeding bread to ducks went viral this week, causing a wave of panicked reaction among social media users.
The original tweet featured a photo of a park sign that reads: "Thank you for not feeding us bread. Bread makes us ill, as it does not contain the right nutrition or calories that we need to keep us warm in winter. Rotting bread pollutes our water and causes nasty surface algae, which kills our fish and gives us diseases. It also makes our water smell."
The photo of the park sign has been retweeted and shared by the tens of thousands, prompting many to express feelings of guilt at the revelation that what they have been doing could be killing ducks.
One post by @proudsIytherin reads, "I'VE BEEN FEEDING DUCKS BREAD THIS WHOLE TIME I'M SO ASHAMED I'M SUCH A MONSTER."
Another woman's response was: "I'm a duck murderer! I'm so upset I could cry."
LittleBabyChels wrote, "Are you serious? Ducks don't eat bread? I'm going to shoot myself. I was just trying to feed them."
MaddieStibbs tweeted, "I'm about to cry, I've fed so many ducks."
For years Game & Fish officials have warned that bread is the equivalent of junk food for ducks and geese, with white bread being labeled the worst. It can cause a wide range of health issues for waterfowl, including a debilitating disease called "angel wing." Angel wing occurs when a duck eats a high calorie diet with a lot of carbs and very little vitamin E and D. Bread has no nutritional value and is packed full of empty calories. Feeding ducks too frequently can also cause them to rely on humans for food rather than seeking out their natural diet.
But the tweeted sign photo also offers a road to redemption. At the bottom it reads, "We do like: Half cut seedless grapes, Cooked Rice, Birdseed (any type of mix), Peas, Corn, Oats, Chopped lettuce."
More like this story
SUBMIT FEEDBACK
Click Below to:
This Week's Circulars
To view money-saving ads...