Voila - a taste of France in Arizona
Main event pairs X-Factor, The Voice singers

By
Max Efrein
|
mefrein
Originally Published: March 23, 2017 8:19 p.m.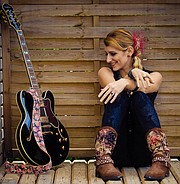 Voila Tour Schedule
Wednesday, March 29
A taste of France – Up close and personal, 5 to 7 p.m.
Mountain Artists Guild and Gallery, 228 N. Alarcon St, Prescott
Fanny "The Voice" Melili at Raven
7 to 10 p.m.
Raven Café, 142 N. Cortez St, Prescott
Thursday, March 30
Prescott V.I.P Cocktail
5 to 7 p.m.
SpringHill Suites Marriott, 200 E. Sheldon St, Prescott
Friday, March 31
From France with Love, non-profit concert, 1 to 4 p.m.
Highlands Center for Natural History, 1375 S. Walker Road, Prescott
Live at Gabby's
6 to 9 p.m.
Gabby's Grill, 2982 Park Ave, Prescott Valley
Gaëlle Buswel meets The CheekTones
8 to 11 p.m.
Raven Café, 142 N. Cortez St, Prescott
Saturday, April 1
Voilà Tour!
5 to 11 p.m.
Prescott Valley Event Center,
3201 Main St, Prescott Valley
Tuesday, April 4
Around France at Mary D. Fisher
3:30 to 8 p.m.
Mary D. Fisher Theater, 2030 W AZ-89A, Sedona
Wednesday, April 5
For Sedona with Love, nonprofit event
3:30 to 5:30 p.m.
Jack Jameson Memorial Park,
25 Northview Road, Sedona
Thursday, April 6
A French Cabaret Night
6 to 11 p.m.
Sound Bites Grill, 101 N Highway 89A, Sedona
Friday, April 7
Sedona First Friday
5 to 8 p.m.
Sedona Arts Center, 15 Art Barn Road, Sedona
5 to 8 p.m.
Kuivato Glass Gallery, 336 Highway 179 B-125, Sedona
5 to 8 p.m.
Renèe Taylor Gallery, 336 Highway 179 B-124, Sedona
Saturday, April 8
Tlaquepaque, a Taste of Provence
4 to 7 p.m.
Tlaquepaque Art and Craft Village, 336 Highway 179, Sedona
7 to 9 p.m.
Un dîner en Provence
René Restaurant at Tlaquepaque, 336 Highway 179, Sedona
The French are coming!
More specifically, a hand-selected pool of talented artists and musicians from France have been booked for a variety of upcoming performances in Prescott, Prescott Valley and Sedona.
Known as Voilà Tour, the concept is a new one. It's designed to provide opportunities for cultural exchange, looking at how French and American music connects, how Arizona's landscapes and its people are seen through French artists' eyes, how French craftwork can be close to the Native American spirit, how French and American cuisines can easily be fused, and how wines from Provence, France, can complement all of these experiences and more.

The main event is set for April 1, when singers Drew Ryniewicz, who was a contestant on the television show "X Factor", performs with Fanny Melili, who was a contestant on the French version of the television show "The Voice."
The man behind the venture is Alain Houzè, an engaging eccentric from France with an eclectic background.
After careers in television production and pharmaceuticals, he wanted to focus on the arts — his passion — and develop a unique experience unlike any offered today. After two years of planning and draining his saving's account, Houzè is finally ready to share his vision.
"I really want to share what we have in common, between France and the United States, because we focus too much on our differences," Houzè said.
Out of anywhere in the U.S., Houzè chose northern Arizona to host his first Voilà Tour in.
Why, you ask? Because Marnie Uhl, President/CEO of the Prescott Valley Chamber of Commerce.
"My American sister is Marnie Uhl," Houzè said. "I met her in 1980 and have since visited Arizona and Sedona many times. So I said, why not do it here?"
The tour will kick off on Wednesday, March 29, from 5 to 7 p.m. at the Mountain Artists Guild and Gallery, 228 N. Alarcon St, in Prescott.
It will feature live painting to live music, French-made paintings and crafts for sale, French wine to drink and homemade tapenades from a French chef. Admission for the event is $10.
"You're going to have your palette being wonderful with the food and the wine, the music going, and then looking at the fabulous art and talking with all of the artists from France," said Donna Carver of Donna Carver Fine Art, who is assisting Houzè in the local marketing of the tour.
The tour will then continue with a number of other cultural exchanges in Prescott and Prescott Valley for the following few days.
The main event will be hosted on April 1 at the Prescott Valley Event Center from 5 to 11 p.m. It will be the only time during Voilà Tour that all of the French and American guests participating in the tour will come together under one roof. Ryniewicz, who is from the Prescott area, and Melili will perform. General admission is $31.
After the main event, the tour will continue in Sedona through April 8.

For more information on Voilà Tour, go to voilatour.fr or send an email to contact@voilatour.fr.
More like this story
SUBMIT FEEDBACK
Click Below to: