Review: 'How to Succeed in Business without Really Trying' a whole lot of fun
By Vicki Paris Goodman, For Kudos
Originally Published: March 23, 2017 7:23 p.m.
Updated as of Monday, March 27, 2017 6:36 AM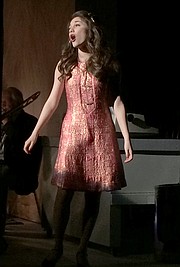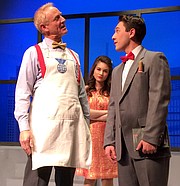 Have you ever wondered how an employee who rose meteorically to the top of a large company, leaving his dumbfounded coworkers foundering in his wake, managed to do it? "How to Succeed in Business without Really Trying" spoofs the phenomenon in Broadway musical fashion with Frank Loesser's uplifting score, a little naughtiness and a whole lot of fun.
With its story originally conceived and developed by Abe Burrows, Jack Weinstock and Willie Gilbert, the 1962 show is set in the Manhattan office building of the fictitious World Wide Wicket Company. Its success as a production depends largely on the actor cast in the starring role of window washer and soon-to-be corporate rising star J. Pierreponte Finch.
Actor Blaze Rech possesses that "it" factor, the endearing quality that makes you root for Finch even after he goes a bit too far, destroying every obstacle in his quest to ascend the corporate ladder like a rocket freshly launched from Cape Canaveral. Rech's Finch is cute as a button, sweet and brimming with optimism. Rech handles his challenging vocal solos mostly well.
Finch is naturally clever, but doesn't accomplish his miraculous rise entirely on his own ingenuity. He gets boosts from a handbook, whose namesake is the musical's title, and the loyalty of a smitten young executive secretary named Rosemary (Jordan Kliphon). The teenage Kliphon, obviously well trained in musical theater, endows the role with a perfection of movement and voice almost uncharacteristic of her down-to-earth character. Still, her Rosemary and Finch share a sparky chemistry.
The greatest impediment to Finch's success is the stereotypical product of nepotism – the nephew of company president J.B. Biggley (Darrell Rowader) – conniving and whiny momma's boy Bud Frump (David Hendrickson). Frump immediately recognizes in Finch a formidable competitor for promotion. Hendrickson renders a "boo and hiss"-worthy antagonist and can be credited with many of the show's funniest moments.
Rowader is the perfect Biggley, amiably stubborn and perfectly bumbling. He and Rech excel in the rousing number "Grand Old Ivy," wherein Biggley is "guided" to the conclusion that Finch shares his college alma mater.
Arguably Finch's biggest problem of all comes from Biggley's mistress, and the company's latest secretarial hire, the secretarially incompetent blonde bombshell Hedy La Rue (Daria Chlebecek). Chlebecek masterfully delivers the role of the bubble-headed La Rue.
Finch's world begins to crumble after he becomes VP in charge of advertising – the handbook's ultimate no-no – and threatens to come crashing down when he employs La Rue for the lead role in his first ambitious ad campaign. But the surprise ending, which introduces Wally Womper (Bob Frey) as the Chairman of the Board, will knock your socks off.
In the meantime, we've been treated to outstanding performances by Christine Boothe as Smitty, John Bryan as head of Personnel, Carole Albrecht as Biggley's secretary, Bob Frey as the corporate-minded head of the Mail Room, and Amos Owen as the lecherous Gatch.
The show features memorable musical numbers such as "Been a Long Day," "Gotta Stop that Man," "I Believe in You," and "Brotherhood of Man."
Director Bruce Lanning imbues this production with an edgier, less good-natured, quality that works out just fine. But the production focuses a bit too much energy on the sexism of the 1960s corporate world.
Ed Gates' set design adds the right touch of realism with its impressive backdrop featuring a big picture window overlooking New York City skyscrapers. And the six-piece live music ensemble, placed stageside in view of the audience, gives the production a homey, old-fashioned quality that I loved.
"How to Succeed in Business without Really Trying" will be performed on the Mainstage at Prescott Center for the Arts, 208 N. Marina St. in downtown Prescott, March 23 through April 9. Evening performances are Thursdays, Fridays and Saturdays at 7:30 p.m.; matinee performances are Sundays, March 26, April 2 and April 9 at 2 p.m. Ticket prices are $14-$23; call 928-445-3286 or visit pca-az.net.
More like this story
SUBMIT FEEDBACK
Click Below to:
This Week's Circulars
To view money-saving ads...