Deputy, K9 find meth in gas tank
YCSO officer discovers 14 pounds of the drug after a stop near Ash Fork
Originally Published: March 23, 2017 6:01 a.m.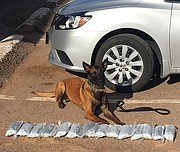 A Yavapai County Sheriff's deputy who stopped a car headed east on Interstate 40 near Ash Fork Monday, March 20, found 14 pounds of methamphetamine in the car's gas tank and arrested the car's two occupants, said Dwight D'Evelyn, YCSO spokesman.
The driver and passenger were "displaying abnormal concern about the presence of the Sheriff's vehicle" as they drove, and slowed quick to exit and pull into a gas station, D'Evelyn said.
The deputy kept watching from a distance as the two men "seemingly stalled for time before leaving the gas station," D'Evelyn said, and, when the deputy pulled behind their car, the driver turned into café parking lot in the 100 block of Park Avenue and went inside.
D'Evelyn said they were "apparently attempting to avoid interaction with the deputy and disassociate themselves with the vehicle."
The deputy decided to have his K9 partner sniff the outside of the car, and the dog alerted around the rear passenger fender area.
Deputies went inside to speak with the two men, but the driver, Robert Deleon, 31, tried to go into the ladies' restroom when they approached him.
Deleon and his passenger, Miguel Patino 38, both from Delano, California, were detained.
"Deleon had two meth pipes in his sock and admitted to a small amount of marijuana in the vehicle," D'Evelyn said.
A search of the car turned up 14 one-pound bags of meth in a hidden gas tank compartment.
Both men denied knowing about the drugs, D'Evelyn said.
They were booked into the Camp Verde jail on charges including transportation or sales of dangerous drugs, possession of dangerous drugs for sale, possession of dangerous drugs, possession of marijuana, and possession of drug paraphernalia.
Patino, who was out on a $100,000 bond from unrelated cases in California, had bond set at $750,000; Deleon's was set at $500,000.
More like this story
SUBMIT FEEDBACK
Click Below to: