Prom fashion trends change with the times
School districts have few rules, just be 'tasteful'

By
Nanci Hutson
|
HutsonNanci
Originally Published: March 21, 2017 6:06 a.m.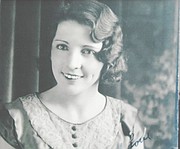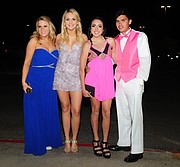 2017 Prom plans
Prescott High School's "All Aboard the White Starline" prom is scheduled for April 22 at the American Warehouse at 226 N. Montezuma St. from 7:30 to 11:30 p.m. Chino Valley High School's gold-and-black, "Into the Hive" Earth Day-themed prom is also on April 22 at the Hassayampa Inn's Marina Room from 8 p.m. to midnight. Bradshaw Mountain High's "Wild Nights" (a jungle theme) prom is on May 13 from 7:30 to 11:30 p.m. at the Humboldt Unified School District offices.
At 102, Geraldine "Jerry" Emmett in Prescott can still see the gown she was gifted to wear for her senior prom at her hometown high school in Gilbert, Arizona.
The Great Depression didn't allow for many frills; most girls made do with handmade dresses.
Emmett had an aunt living in Hollywood with connections to movie stars. She procured the gown for $5 from one of the actresses of the day – a name Emmett can no longer recall.
"I know it was red, and it was gorgeous," Emmett said.
For certain, Emmett and others through the decades say senior prom is a time-honored tradition, regardless how it was, or is, celebrated.
Prescott High School 1963 graduate Jane Orr said the selection of her dress is how she opted to stand out in her crowd.
"I remember feeling I was going outside the lines … I was the only one in a black dress," Orr said.
Even more memorable, though, was Orr's decision to back out of one date for another.
"I have much guilt about that even to this day," said Orr, who remains active with her class and has since apologized to that prospective date.
A favorite memory from that evening was returning with friends to her family's house and making pizza.
"It was a blast," Orr said. "The floor and walls were nothing but girls in their big puffy dresses."
Rebecca "Becky" Ruffner attended the Prescott High School prom in 1965, recalling it was a "Gidget Goes to Hawaii" affair.
For the occasion, she wore a cobalt blue, strapless satin gown she likely bought at the former downtown Goldwater's department store. She had her then-bleached blond hair arranged in a "bubble."
"I went, but I didn't go," recalls State Sen. Karen Fann of Prescott of her high school prom in San Diego, California.
The then-editor of the high school yearbook participated in a "pretend" version of the prom at the Hotel Del Coronado in October so as to have pictures for their yearbook deadline – she designed and sewed a floor-length, long-sleeved gown with a dark blue velvet top and light blue chiffon bottom.
"We pretended to dance to no music, pretended to eat no food," Fann said.
The night of the actual spring prom she was working for an airline in Los Angeles and couldn't get the night off.
PROM FASHION TODAY
The trends in prom attire, and the intertwined hoopla, have changed significantly over the years.
From fashion changes to venues, driving Dad's car to limousines, proms of today are more elaborate, more expensive rites of passage.
High necklines and crinolines have gone the way of sleek, body-shaping gowns with slit skirts, and illusion sheer fronts. Backless and beaded halter dress with cut-out sides and low-cut fronts are commonplace; this year, two-piece midriff showing designs in lace and beads are an option, both as mini-dresses or floor-length varieties. High slit skirts similar to those seen on Hollywood's red carpet are also a popular choice.
Dress codes for most high schools simply speak to "tasteful" semi-formal or formal wear.
Elegant Brides Owner Shari Camp in Prescott Valley has seen a lot of changes over the course of her 20-year career. Most of the new dresses in her shop can be bought for about $100; the same with rental tuxedo sets that this year include colors other than black. She even has a camouflage tuxedo option.
Camp does offer less expensive second-time-around gowns, as well as a few one-of-a-kind dresses that can cost upwards of $500.
In the front of her shop is a robin-egg blue taffeta Cinderella-style gown complete with butterfly applique around the bodice.
What time has not changed is that prom night is one of more memorable high school occasions.
"It was a fun time," Ruffner concluded.
More like this story
SUBMIT FEEDBACK
Click Below to: