'Music for the Soul' at St. Luke's Sunday

By
Nanci Hutson
|
HutsonNanci
Originally Published: March 16, 2017 8:31 p.m.
Updated as of Sunday, March 19, 2017 8:29 AM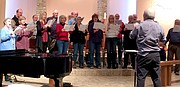 Chamber choir fans, and those who may be unfamiliar but like to experience music in an intimate setting, are sure to appreciate the "Music for the Soul" program scheduled for St. Luke's Episcopal Church, 2000 Shepherds Lane, on Sunday, March 19, at 3 p.m.
The Camerata Singers of Prescott and Carolyn Eynon Singers of Scottsdale will join together for what local conductor Dan Boyce assures will be a wonderful afternoon of exemplary classic and contemporary music – the Carolyn Eynon Singers will perform a Billy Joel tune.
At 2: 30 p.m., prior to the beginning of the concert, Boyce said there will be a preview talk to give all those attending a "framework" for what they will be hearing throughout the afternoon.
"All of our singers are trained musicians and singers … and our mission is to provide high quality music of different styles," Boyce said of the choir that he keeps to between 18 and 22 members.
The performance will begin with 20 minute-sets from each of the two choirs that Boyce described as "relatively contemporary and accessible music."
"Very listenable, and very well done," Boyce said.
For those who may not be as familiar with chamber music, Boyce said it is "very intimate" such that the choir connects with one another and the audience in a way that does not occur in larger concert venues. The choirs will be will be accompanied by an instrumental ensemble of eight from Prescott, Flagstaff and Phoenix, he said.
After an intermission, the two choirs will then conclude the afternoon with a 40-minute collaboration piece titled, "Requiem for the Living," a five-movement work that Boyce suggests will be a "staple of the choral repertoire for a long time to come."
The work that is essentially a musical prayer by composer Dan Forrest draws from the Catholic liturgy and refreshed with scripture as well as from images of Earth captured by the Hubble Telescope. The work not only honors the deceased but the struggles of those living through their struggles and sorrow. The piece is focused on one's humanity and search for peace, according to a news release about the requiem.
This music is not only great to sing, but enthralling to hear, Boyce declared.
The afternoon concert will cover a "whole gamut of genres" and for those who are unfamiliar with this style, Boyce said it will be a great introduction to a whole new musical experience.
Tickets are $20 for adults and $15 for students younger than 18. They can also be purchased at www.CarolynEynonSingers.com.
SUBMIT FEEDBACK
Click Below to:
More like this story