Bars consider providing code words for customers in distress

By
Max Efrein
|
mefrein
Originally Published: March 15, 2017 6:01 a.m.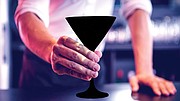 Some bars throughout the world have begun to provide their customers with an additional safety tool.
Whether it's a date gone wrong or a poor encounter with a belligerent stranger, code words have become an option at some bars for customers looking to discreetly ask employees for help.
A commonly referenced example of the code system is one used by a bar in Florida called Iberian Rooster.
Back in December, the Tampa Bay Times reported the restaurant posted a sign in the women's restroom telling customers they could go to the bar and order an "Angel Shot."
Depending on how the shot is ordered determines the sort of help the customer receives.
If ordered neat, the bartender will escort the customer to their vehicle. If ordered with ice, the bartender will call an Uber or Lyft to pick the customer up. And if ordered with lime, the bartender will call the police.
Though growing in popularity, the trend has not quite reached the Prescott area. There are some in the local bar industry, however, who have at least heard of it.
Jannette Lentini, a bartender at Whiskey Row Pub, has read about it online.
"I think it's cool," Lentini said. "It's like the lady pretending to call the pizza place but actually calling 911."
Brian Sullivan, manager at Far from Folsom, hadn't heard of the idea, but likes it. "It only needs to work once to be worth it," Sullivan said.
Others are a little more skeptical about the usefulness of having code words.
"I could see something like that maybe working out, but it doesn't really seem necessary," said Matt Brassard, co-owner of Matt's Saloon. "If it's a situation where someone really feels unsafe, why have a code word? The situation is what it is and let's handle it appropriately."
Going even further, it could cause additional issues or a misunderstanding, Brassard said.
"Maybe if the bartender's busy and it doesn't click with them right away, then it becomes an issue of trying to get the point across," Brassard said.
Lentini perceives it differently. She can't necessarily see herself using code words given her nature, but she can see other women using it.
"A lot of women don't know how to get out of a bad situation because they're timid," she said.
Of course, to work well, the code would have to be unique enough to each bar so that the codes aren't common knowledge.
"You could even put different codes in the men's and women's bathrooms," Lentini said.
More like this story
SUBMIT FEEDBACK
Click Below to:
This Week's Circulars
To view money-saving ads...