Bradshaw Mountain hosts tri-meet in Prescott Valley (PHOTOS)
By
Doug Cook
|
dougout_dc
Originally Published: March 9, 2017 6:03 a.m.
Photo Gallery
Bmhs Track Meet 030817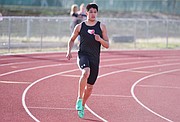 Bradshaw Mountain's boys' and girls' track and field teams both placed second at a home tri-meet Wednesday a mere 24 hours after competing well in the Northland Prep Academy Skydome Classic in Flagstaff.
Taking on Cactus and Peoria at Bob Pavlich Field, all of the official individual results were not immediately available.
On the boys' side in the team standings, Peoria won with 69 points, followed by Bradshaw (65) and third-place Cactus (41). For the girls, Peoria took first with 74 points, followed by Bradshaw (46) and third-place Cactus (45).
Bradshaw's Abe Hernandez stood out individually, winning the 400-meter run in 52.67 seconds. He was also part of the Bears' 4x100m relay team that placed second in 44.37 seconds. Peoria was first in 44.27. In addition, Sara Willer shined in the pole vault.
At the 33-team Skydome Classic on Tuesday, Hernandez won the 400m in 51.63 seconds, a personal best, and claimed second in the 200m (23.59); senior Jordan Minor won the long jump (21 feet, 4 inches) and snagged third in the 60m dash (7.40); senior Ryan Shaver placed second in the shot put (43' 2"); and junior Bailey Rozendaal took fourth in the 400m (1:04.35, a personal best).
The Bears will visit Goldwater in Phoenix for an underclassmen meet next Friday, March 17. They will then travel to the Chandler Invite on March 24 and 25.
What follows is a breakdown for how Prescott and Chino Valley fared at the Skydome Classic.
PRESCOTT
At the Northland Prep Academy Skydome Classic Tuesday in Flagstaff, the Division II Badgers were winners in four events.
Victors were Arthur McCracken in the 60 meters (7.24 seconds); Makennah Mills in the 1,600m (5:26.81); David Pearce in the 60m hurdles (9.11) and Isaiah Kaitschuck, Paxton Henry, Pearce and McCracken in the boys' 4x400m relay (3:34.69).
In the Toro Relays, the Badgers' 2017 season-opening meet last Friday, March 3, at Mesa Mountain View H.S., Prescott's girls placed third and its boys took sixth among a strong field featuring six higher-enrollment D-I schools.
Badgers coach Cylinda Bray said 16 of her boys and 16 of her girls established new personal bests. Three of those athletes won their events.
They included Cade Parker in the discus, whose throw of 146 feet, 7 inches automatically qualified him for state; Henry in the triple jump (42' 11") and Sawyer Magnett in the 1600m (5 minutes, 30 seconds).
Prescott's provisional state qualifiers, which will ultimately be determined by state rankings at the end of the season, were Parker (shot put); Tyler Blackmore (discus); Henry (triple jump); Magnett, Kaitlyn Kasun, Makenna Bray and Mills (4x800m relay); Magnett (1,600m); Molly Courtright (400m); Makenna Bray, Kenna McMahan, Alisa LeBlanc and Courtright (4x400m relay) and Brittany Resendez (discus).
"For the first meet, we were very happy at the team's performance and the amount of athletes who started the run for state," coach Bray said. "Although many of the provisional times or distances may not be enough to keep the athletes in state [meet contention], we feel good about how many were able to hit these marks in the first big meet of the season."
Prescott will take some time off for spring break before heading to the Chandler Invite March 24 and 25.
CHINO VALLEY
The Cougars placed in the top 10 of six events at the Skydome Classic on Tuesday.
For the Chino Valley boys, Christian Herb placed fifth in the shot put with a throw of 41 feet, 10 inches. David Gehman claimed 10th in the 800m in 2 minutes and 12 seconds.
Chino's girls were led by Katie Farnsworth, who was fifth in the 400m (1:04.37), seventh in the 200m (28.04) and sixth in the 60m (8.38). Lauren Foster placed fourth in the 800m (2:31). Ashley McGuffey finished ninth in the 400m (1:04.94). The 4x400m girls' relay team snared fifth in 4:27.
The Cougars will travel to Glendale on Friday, March 10, to compete in the Gaucho Relays.
Follow Doug Cook on Twitter @dougout_dc. Reach him at 928-445-3333 ext. 2039.
More like this story
SUBMIT FEEDBACK
Click Below to:
This Week's Circulars
To view money-saving ads...