Humboldt fifth-graders take flight
Quad-City Schools
Originally Published: March 6, 2017 6 a.m.
On Saturday, Feb. 25, 27 fifth-grade gifted students from Granville, Lake Valley, Mountain View and Humboldt Elementary traveled to Tucson International Airport to take part in the Wright Flight program and fly a plane. This is the third year that gifted students at HUSD have participated in the Wright Flight program, which is a nonprofit organization that is named after the Wright Brothers that uses the motivational power of aviation to help kids do better in school.
Students learn how the pioneers of aviation set goals and had to overcome obstacles to reach their goals. In order to earn their fly day, students had to pass their final Wright Flight test with an 85 percent or better, set and meet a challenging and realistic academic goal as well as honor a pledge to remain drug-, alcohol- and tobacco-free. If the student meets their goal and passes the curriculum, they are rewarded with a Flyday.
There are three different programs offered to students. The first program at Wright Flight is the "History of Aviation." This curriculum starts with the first flight by the Wright Brothers and ends with the Space Shuttle program sharing historical information about major aviation milestones.
The "Flight Voyager" is the second program that focuses more on the pioneers of aviation such as the Wright Brothers, Charles Lindbergh and Amelia Earhart. Flight Voyager concludes with "last first in aviation" — the flight of the Voyager by Dick Rutan and Geanna Yeager. Theirs was the first plane to fly nonstop around the world without refueling. It's in tribute to this accomplishment that our Flight Voyager program was named. After learning about these feats, the students are introduced to basic aviation and navigational skills. They will learn how to plot and plan their own flight on an aeronautical chart which, upon successful completion of the program, the student will use to navigate during their Flyday.
Lastly, the "Minuteman" program is for the younger students who are interested in Wright Flight. Here, the students earn the right to tour the Air National Guard and fly a flight simulator.
HUSD has a second fly day scheduled for March 25 and 15 more fifth-grade gifted students from Liberty Traditional and Coyote Springs Elementary will be flying from Tucson International Airport.
Art Teacher of the Year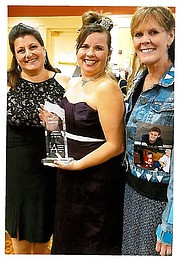 The National Art Education Association has named Emily Gabaldon of Prescott to receive the 2017 Arizona Art Educator. This award honors an outstanding member from each state or province association whose service and contribution to art education merits recognition and acclaim. The award was presented at the NAEA National Convention in New York City March 2-4
NAEA President Patricia Franklin states, "This award is being given to recognize excellence in professional accomplishment and service by a dedicated art educator. Emily Gabaldon exemplifies the highly qualified art educators active in education today: leaders, teachers, students, scholars, and advocates who give their best to their students and the profession."
NAEA is the professional association for art educators. Members include elementary, secondary, middle level and high school art teachers; university and college professors; education directors who oversee education in our nation's fine art museums, administrators and supervisors who oversee art education in school districts, state departments of education, arts councils; and teaching artists throughout the United States and many foreign countries.  For more information about the association and its awards program visit the NAEA website at www.arteducators.org
Principal Kort Miner states "It is nice to have an Art Educator recognized in the state of Arizona with all of the budget cuts our state has issued. More importantly, it is exciting to have a state award recipient coming from Prescott Valley and/or Bradshaw Mountain High School. She represents us well."
The Humboldt Unified School District and Bradshaw Mountain High School congratulate Mrs. Gabaldon on her recognition and are proud of her dedication to our students.
To learn more about the amazing things our students and staff are doing at HUSD like us on Facebook, follow us on Twitter and check out our website at humboldtunified.com.
More like this story
SUBMIT FEEDBACK
Click Below to: