By
Max Efrein
|
mefrein
Originally Published: March 5, 2017 6:02 a.m.
Spring is afoot and the business community in the tri-city area is shaking with some significant announcements.
Family Christian closing
First, for the not-so-good news.
Family Christian, the self-proclaimed "world's largest retailer of Christian-themed merchandise," has announced it will be closing all of its locations after 85 years of business.
The nonprofit company, employing more than 3,000 people in 240 stores in 36 states, said in a brief statement that the retailer had been facing declining sales since filing for bankruptcy protection in 2015 and had no choice but to shut down.
The news broke on Thursday, Feb. 23.
Liquidation of the store started the following Saturday, Feb. 25.
Mary Alexander has been the manager of the chain's Prescott Valley store for about 12 years, she said.
The storefront was originally located on the corner of Gurley and Montezuma streets in downtown Prescott before moving to its current location in Prescott Valley at 3088 N. Glassford Hill Road about 10 years ago, she said.
"I'm trying not to be sour grapes right now," Alexander said about the closure.
She said nine employees, including herself, will soon be out of their jobs because of the situation.
Store items are currently being discounted between 10 and 30 percent, she said.
"The liquidators said it will probably take about two-to-three months to clear out the store," Alexander said.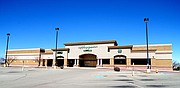 Haggen property sells
The former Haggen property in Prescott Valley, 7450 Highway 69, has been purchased by a local LLC (limited liability company) called Lynx Capital 4.
Haggen bought the property in June 2015 as part of a large grocery store acquisition deal with Safeway; the store was an Albertsons, which Safeway owned. After just a couple months of being open, Haggen announced it would close the location along with all of its new stores throughout the Southwest — including one in Prescott.
Haggen subsequently lost the Prescott Valley location in bankruptcy court and it was listed with a real estate company in California.
Based in Prescott Valley, Lynx Capital 4 decided to buy the property. The deal was finalized on Feb. 10, 2017, according to Yavapai County Assessor's Office records.
The LLC has hired David Parker of Goliath Commercial Real Estate, a commercial real estate agency in Prescott, to lease out the building.
Parker said he has already begun to proposition various companies.
"We are going to be actively pursuing potentially grocery stores, but we will also consider other retail uses," Parker said. "We may consider dividing it, but we would prefer to have one party take the whole facility, if possible."
Parker said the current owner of the property purchased it because they believed it was a good investment and the appropriate tenant could serve the community well.
"The owner would like to add something that would be complementary to that downtown entertainment district area," Parker said.
Parker said some potential tenants have shown interest in the property, but Goliath Commercial has only just begun marketing it, so it may take some time before a deal is struck.
"Some of those people, while they've received information, none of them have stepped up to the table and committed themselves, but we're hopeful they will within the first month here," Parker said.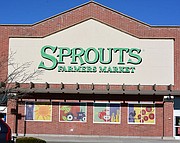 Prescott Sprouts to open March 15
Sprouts has released the plan for its grand opening celebration, which will be on March 15. The store is located in the Depot Marketplace in downtown Prescott, off Sheldon and Montezuma.
As previously reported, doors will open at 7 a.m. Just announced, however, is the list of special events and giveaways set for the store's first few days of business.
Special events and giveaways include:
The first 200 shoppers in line will receive 20 percent off their initial total purchase.
Muffin and coffee samples will be served to everyone in line before the doors open.
Upon checkout, every 15th shopper will receive a coupon book featuring Sprouts savings.
Every customer will receive one free reusable bag with purchase.
Grand Opening weekend deals:
Saturday, March 18 - The first 200 customers to make a purchase will receive a coupon booklet for five free deli items.
Sunday, March 19 - Upon checkout, every 15th customer will receive a coupon for $5 off a purchase of more than $15 the following week.
As part of Sprouts' commitment toward zero waste, the new Sprouts in Prescott, along with all other stores in the area, will donate unsold and edible groceries to St. Mary's Food Bank through the grocer's Food Rescue Program, according to a news release.
In 2016, Sprouts stores and distribution centers donated approximately 18 million pounds of product through the Food Rescue Program, which is equivalent to 15 million meals, the release states. Food that is not fit for donation is provided to local cattle farms and composting facilities. Sprouts' evolving zero waste initiatives help close the loop on food waste while reducing the impact of hunger and the company's environmental footprint.
More like this story
SUBMIT FEEDBACK
Click Below to:
This Week's Circulars
To view money-saving ads...