Two men arrested in Seligman burglary
Originally Published: March 4, 2017 6:05 a.m.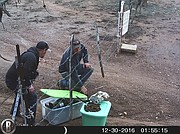 SELIGMAN — Two men were arrested and charged with burglarizing a cabin after they were allegedly caught on a nearby game camera, according to Yavapai County Sheriff's spokesman Dwight D'Evelyn.
The owner of an unoccupied cabin on E. Fort Rock Road reported on Feb. 12 that it had been burglarized on Dec. 30, 2016, by three suspects.
They forced entry and storage containers on the property and stole lanterns, butane canisters, hand tools and storage boxes, D'Evelyn said.
With game cameras in the area, the property owner was able to identify two of the suspects, D'Evelyn said, but delayed calling law enforcement while he conducted his own investigation.
Once he did, a deputy learned that the suspects were Shawn Schmitt, 38, his 16-year-old son, and a friend, James Hudson, 39, all from Prescott Valley, D'Evelyn said.
On Feb. 21, deputies arrested Hudson on charges of burglary, theft, and trespassing. Hudson admitted involvement, and several stolen items were later found in his home, D'Evelyn said.
Schmitt's son also admitted he and his father were involved in the burglary, D'Evelyn said, and he will face juvenile charges.
Shawn Schmitt turned himself in on Feb. 28 and was charged with burglary, theft, and trespassing.
Both Schmitt and Hudson have been released pending court action.
More like this story
SUBMIT FEEDBACK
Click Below to:
This Week's Circulars
To view money-saving ads...