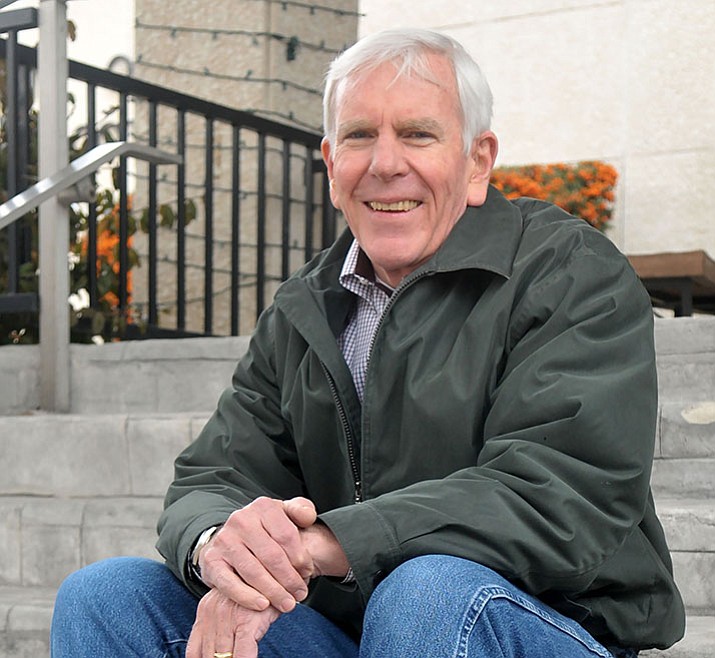 Photo by The Daily Courier.
Originally Published: March 4, 2017 6:02 a.m.
New leadership is in store for the City of Prescott later this year, with the announcement Friday that incumbent Mayor Harry Oberg would not seek another term.
Oberg, who had taken out a nomination packet for mayor in early February, said he has since decided not to run for another term.
"Some things have come up in the personal regard, and I decided I need to spend some time on that," Oberg said Friday afternoon.
The decision is unrelated to city business, Oberg said, noting, "I have had a lot of fun, and I met a lot of great people."
When he took office in November 2015, Oberg said, "I knew that PSPRS (Public Safety Personnel Retirement System) and the sober homes would be the major things I would have to deal with."
Early on in his two-year term, Oberg took on a high-profile role in the sober-living-home issue, appointing a local ad hoc committee to look into the proliferation of group homes in Prescott, and testifying at the state Legislature in support of a bill that aimed to give more regulation authority to local governments.
Legislators ultimately passed the bill, which became law in 2016. Since then, the city has passed its own ordinances for stricter regulation of recovery group homes in the community.
"We've had a good process, and I feel like we've made pretty good progress on the sober homes," Oberg said.
Although the city still gets complaints occasionally, he said, "It's not quite the issue it was when I first came into office."
On the PSPRS issue, the City Council recently agreed to put a 0.75-percent sales tax on the ballot on Aug. 29 to raise revenue to pay down the city's $78 million in unfunded liability.
Oberg opposed the measure, maintaining that the sales tax should have been dedicated to police and fire services, rather than restricted to paying down the PSPRS shortfall.
This week, he noted that the city has operated with its existing 2-percent sales tax for the past 20 years. "We've had 20 years of not raising the sales tax, and that has created a problem with providing the government function," he said.
Oberg said he plans to remain in Prescott after the end of his term, and he hopes to remain active in city issues when he can.
A news release from the city Friday afternoon stated: "Throughout the remainder of his term, Mayor Oberg will continue to work diligently with the council, city manager and staff, fellow mayors, and legislative representatives to bring resolution to the issues confronting Prescott."
RUNNING
In late February, City Councilwoman Jean Wilcox took out a nominating packet to run for mayor. With Oberg's decision not to run, Wilcox currently is the only prospective candidate for the position.
The city clerk's department reported Friday afternoon that the field of council candidates has not changed since early February, when incumbent Councilmembers Steve Blair and Greg Lazzell took out nominating packets, along with local residents Joe Viccica, Phil Goode, and Michael Broggie.
The city primary is scheduled to take place Aug. 29, and the general election is set for Nov. 7.