One killed trying to drive through a flooded creek
Sheriff's office: 'Velocity of water in this area is unusally high'
Originally Published: March 3, 2017 5:58 a.m.
A person was killed Tuesday, Feb. 28, when he attempted to drive across the flood-swollen Beaver Creek at about 6:30 a.m. in Rimrock, Sheriff's spokesman Dwight D'Evelyn said.
The vehicle, which appeared to be carrying only the driver, was carried away by the rushing water.
The vehicle was found relatively quickly, submerged, despite storm conditions in the area.
Yavapai County Sheriff's Swiftwater Rescue team, the Sheriff's Rescue-1 helicopter, a Department of Public Safety Ranger helicopter, and Copper Canyon Fire rescue personnel searched the creek for the driver.
They located a body, believed to be that of the driver, about a mile downstream, around noon.

D'Evelyn cautioned drivers against attempting to cross flooded roadways.
"It takes very little water to carry a vehicle away," he said. "The velocity of water in his area is unusually high."
Prescott Fire spokesman Don Devendorf said, "Our biggest fear is that people will underestimate the speed, volume or depth of the water and get themselves into a potentially life-threatening situation."
Devendorf said that, while the fire department "has a swift-water rescue team on duty at all times … sometimes there is nothing we can do to save lives by the time we get there."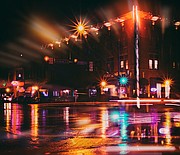 Winter's not as wet as it seems
It may seem as if the Quad Cities have had a lot of rain and snow this winter, but a meteorologist at the National Weather Service in Flagstaff said it's actually fairly close to average.
Meteorologist Ben Peterson said "it was a little bit wetter than normal," but normally, "for the calendar year, you should be at 2.46 inches, and right now, you're at 3.22."
He added that a weak La Nina has made for a less-than-spectacular winter.
According to the National Weather Service, Prescott received an inch of snow Tuesday, Feb. 28, PV got a half-inch, and Seligman saw up to two inches.
"Storms like this aren't really too unusual around here, we usually have a couple of these each year," Peterson said.
SUBMIT FEEDBACK
Click Below to:
More like this story