New director to take over VA Hospital on Monday
Oregon woman fills position that was vacant for more than a year

By
Nanci Hutson
|
HutsonNanci
Originally Published: March 3, 2017 5:59 a.m.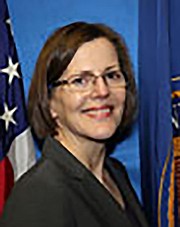 Come Monday, the local VA Hospital will have a new medical director, filling what has been an interim position since December 2015.
The new leader of the Northern Arizona Veteran Affairs Health Care System that provides services to more than 26,000 veterans is Barbara Oemcke, a 30-year health care administration leader who most recently served as the associate director and interim medical director of the VA Southern Oregon Rehabilitation Center and Clinics in White City, Oregon. She worked at that post between 2013 and 2017.
The Department of Veteran Affairs in Long Beach, California, made the official announcement on Oemcke's selection on Friday, March 3. She succeeds Donna Jacobs, who retired more than a year ago after a career of more than two decades. Jacobs was at the local VA for five years.
The interim position has been held by Dr. M. Keith Piatt, who prior to that assignment served as chief of the VA's medical staff. Prior to coming to the Prescott VA campus, Piatt was on staff at the Carl T. Hayden VA Medical Center in Phoenix. On five occasions, Piatt was selected as one of the "Top Doctors in Phoenix."
In his tenure with the VA, Piatt established the first multidisciplinary HIV clinic in 1990 and was honored with the federal VA Secretary's "Hands and Heart" honor in 1992. Piatt, too, was involved in the opening of seven community-based outpatient clinics, something that the local VA has done throughout central and northern Arizona as this VA serves veterans living across a 65,000-square-mile region.
Piatt did not apply for the top spot.
"It has been a privilege and a pleasure to be able to serve our veterans in this position.
I am grateful for the opportunity and look forward to resuming my duties as Chief of Staff at NAVAHCS," Piatt said.
Oemcke's resume states that she earned her bachelor's degree from North Dakota State University in nutrition and then earned a master's degree in business administration from St. Cloud State University in St. Cloud, Minnesota. Oemcke, too, is a graduate of the 2012 VA Health Care Leadership Development program.
Oemcke has health care leadership experience in food service management, clinical nutrition, revenue cycle management, business management and health care administration, according to her VA biography. She started her career with the VA in 1991 at the VA Medical Center in St. Cloud, Minnesota as a registered dietitian. She, too, gained leadership experience in business operations at the Fargo, North Dakota VA Medical Center.
She was the interim business manager for the VA's Midwest Health Network, and during her tenure led a successful implementation of a fee-basis claims software and initiated a consolidation of revenue functions.
VA staff and veteran group leaders have been awaiting official word for months on the new director's appointment.
VA Public Affairs Officer Mary Dillinger said Oemcke will spend part of her first few weeks meeting with staff, veteran service groups, local political and civic leaders as well as veteran patients at the VA's various clinic locations throughout the NAVACHS system. She said one of the first such meetings will be in Kingman later this month.
Oemcke is involved in numerous national VA committees and workgroups.
VA leadership lauded Oemcke's qualifications to help the local VA progress into the future. They further noted that she is an outdoor enthusiast who will likely partake of much of Northern Arizona's hiking, biking and other outdoor opportunities.
"Her sound leadership qualities and proven experience will be valuable assets for the facility, the employees and volunteers, and most importantly, for the veterans we are honored to serve," said Marie Weldon, director of the Desert Pacific Veterans Integrated Service Network.
More like this story
SUBMIT FEEDBACK
Click Below to: