Originally Published: March 1, 2017 6:02 a.m.
EDITOR'S NOTE - Today, March 1, kicks off Women's History Month. In their honor in March, The Daily Courier will be publishing short features on present-day women who have made, or are in the process of making, valuable contributions to Yavapai County, or those who make up a facet of the community not always recognized by its residents.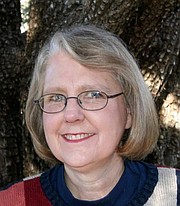 Arizona native Nancy Burgess believes the best way to teach about historic preservation is to see it.
That's the philosophy behind the National Registry, she said about historic buildings and objects.
"It doesn't have to be open to the public. Usually, here in Prescott, the building is close enough to the street to see," Burgess said.
Involved in the establishment of numerous historic districts in the city, as well as restoring "Bill, the Elk," on the Elks Theater, she is directly responsible for putting about 1,200 buildings in Prescott on the National Register.
Burgess was introduced to historic preservation in the early 1980s in Phoenix when a property owner came into the law firm where she worked and asked for help placing some buildings in Mayer on the National Register. When she moved to Prescott in 1984, Burgess used her knowledge as a volunteer with Sharlot Hall Museum and with Yavapai Heritage Foundation.
The Foundation, which no longer exists, was started by women who had resided in Prescott for many years, including Elizabeth Ruffner, Burgess said. In the early days, they learned how to document properties and handle research that required working off newspaper clippings and identifying prominent people who were former owners or residents.
Today's research, with so much information available online, is less arduous. Nevertheless, the process of listing a building on the National Register takes two years, sometimes longer.
"You can do individual listings if the building qualifies. It is much more efficient to do historic districts," Burgess said.
Nearly 40 cast bronze plaques with photos recognize historic Prescott buildings, 35 of which Burgess generated.
The project she is most proud of, however, is returning the elk to the Elks Theater and Performing Arts Center, formerly the Elks Opera House, after a 30-year absence. Working on the theater itself was a seven-year project; restoration and return of "Bill, the Elk," took three years.
"Things moved slowly sometimes in historic Prescott," Burgess said.
The pressed sheet copper statue was in poor condition by the time she initiated its homecoming from the owner, the Benevolent and Protective Order of Elks Lodge #330, in Prescott Valley where it had resided since the early 1970s. Ed Reilly, owner of Bronzesmith, volunteered his expertise for repairs that included fixing 14 bullet holes to the body and water damage to the legs.
"Interestingly, A&B Sign who took it down in the 1970s put it back up using the same crane. It has its own platform and is not going anywhere," she said.
Burgess is one of 100 Arizona Culture Keepers, an honor that extends to only 100 people committed to upholding the traditions, rituals and culture of Arizona. She also has authored five books.
Other than living in a designated historic neighborhood, young people may not realize the importance of preserving and honoring local history.
"I think that it's really hard to expose younger children, say middle school age and even into high school, to historic preservation unless the community really works hard at it," she said.
Since retiring from her position as historic preservation specialist with the City of Prescott, Burgess continues to put in volunteer time with the Yavapai Cemetery Association.
She recommends those interested in Prescott history to access information on buildings and objects – such as the windmill at Sharlot Hall Museum, the clock on Goodwin Street by the Chamber of Commerce, and lampposts – listed on the National Register in the reference section of the Prescott Public Library.
"Read the notebooks. It's a little bit technical, but interesting. Of course, I wrote them, so I would say that," she said with a laugh. The City Hall also has a map that shows all the historic districts within the city limits.
Related Stories
More like this story