Shakesbeer returns with new show

By
Max Efrein
|
mefrein
Originally Published: June 29, 2017 8:43 p.m.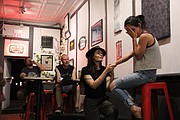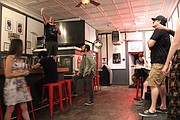 As Lysander famously said to Hermia in the Shakespeare play "A Midsummer Night's Dream," "The course of true love never did run smooth."
The romantic phrase could be used to describe the work done by The Wit's Shakesbeer, a theatre company that started in Denver, Colorado, and leapt to Prescott thanks to one of its members.
Jacob d'Armand had lived in Prescott, where he attended acting classes at Yavapai College and later ran a theatre company for three years.
He then moved to Colorado and looked to get a theatre company started there with some fellow actors.
They had heard about a subculture of theatre companies that mix booze and Shakespeare in various ways and decided to explore the idea.

Some of the companies they found stage it so that one actor drinks heavily while the other actors have to play sober around him or her.
Essentials
What: "A Midsummer Night's Dram" by The Wit's Shakesbeer
When: 4 p.m. Sunday, July 2 at Raven Café, 142 N. Cortez St. and 2 p.m. Sunday, July 9 at Prescott Public House, 218 W. Gurley St.
Other companies would have just three actors doing all of the parts of a Shakespeare play while drinking together.
What they ended up borrowing from the most was a group based in Chicago. This company had just a few hard-and-fast rules: serious actors, no directors, one rehearsal and perform at a bar.
"We sort of took their model and rounded it out a bit because we're not professionals, at least not all of us are," d'Armand said.
They named the company The Wit's Shakesbeer and started partnering with drinking establishments to host their original, 60-minute adaptations of classic Shakespearean dramedy. Throughout each performance, the actors are consistently drinking, leaving most of them properly drunk by the end of the play.
It was so successful in Colorado that when d'Armand moved back to Prescott, he decided to start a Prescott branch of the company.

"I had a vision for Wit to be a theater company that sort of expands out of Colorado and turns theater back into a trade instead of everyone having to go to Broadway or LA or doing community theatre," d'Armand said.
Since starting in January 2017, the Prescott branch has put on two performances – "Twelfth Pint" and "Romeo and Brewliet" – and is about to put on its third, "A Midsummer's Night Dram."
To make these free performances happen, the company hosts an audition, casts anyone interested in participating, rehearses three times a week for about a month-and-a-half, and puts on performances at whatever drinking establishments welcome their good-natured shenanigans.
"Half of our cast has never acted a day in their life prior to this, and it's awesome," said Allie Elliott, an experienced actor who has helped d'Armand organize the plays.
Phil Riccio, a nursing student at Yavapai College, is one of those who has never acted in his life. He will be performing in the company's version of "A Midsummer's Night Dram."
"For me, doing something uncomfortable is something I like to do; it makes me feel like I'm growing as a person," Riccio said.
Though their previous performances incorporated very little stage or costume design, this upcoming performance will be a little more colorful.
"Midsummer is such a mystical, magical play that I feel you can't not go that way with costumes," Elliott said.
The performance will take place at 4 p.m. on Sunday, July 2, at the Raven Café and 2 p.m. on Sunday, July 9, at Prescott Public House. While jovial, the performances are adult in nature.
More like this story
SUBMIT FEEDBACK
Click Below to: