More than just the rodeo...

Originally Published: June 29, 2017 9:52 p.m.
Updated as of Friday, June 30, 2017 11:23 PM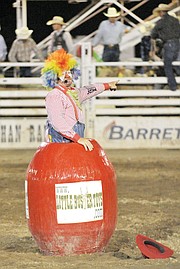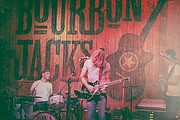 As usual, there's much more than the rodeo going on at this year's Prescott Frontier Days, said General Manager J.C. Trujillo, noting that a lot of great pride comes in putting together eight performances of great rodeo with top stock and top cowboys.
The parade and dances going along with the rodeo are an American tradition, he said.
There are a number of specialty acts this year, including Troy Lerwill, the "Wild Child," Trujillo said, commenting that Lerwill has been to the rodeo before.
"He jumps a big, long horse trailer and a truck on his motorcycle in the arena," he said. "It's pretty wild."
Along with Lerwill is Tomas Garcilazo, a native of Mexico City who does a specialty act with trained horses, Trujillo said.
There also are the bullfighters, formerly known as rodeo clowns, such as Quirt Hunt, who's been involved with the "World's Oldest Rodeo" for 15 or 16 years, and Luke Kraut, an Australian who moved to the United States, he said, remarking that Kraut has been a top bullfighter in the area for a long time.
Further, since this is the 130th year for the "World's Oldest Rodeo," the desire was to get a local Arizona bullfighter, Trujillo said.
Yet, specialty acts and bullfighters aren't the only things that accompany the rodeo and its fully packed weekend of fun, Trujillo said. The parade is the second largest in the state and watched by 30,000 to 40,000 people and there are dances in the parking lot of the BMO Harris Bank on the corner of Montezuma and Sheldon streets, he said. Friday and Saturday nights are for 21 and older from 8 p.m. to 1 a.m., Trujillo said. Zona Road will be playing both nights.
The artistically minded have something to do this weekend as well at courthouse plaza with the Prescott Rodeo Days Fine Arts & Crafts Show going on from 9 a.m. to 5 p.m. Saturday through Monday. The show features fine arts and crafts from around the Southwest.
Wrapping everything up once again is Cowboy Church at 10 a.m. on Sunday, July 2, on the Prescott Rodeo Grounds, 840 Rodeo Drive.
"We still like to keep everybody busy on the Fourth of July," Trujillo said.
For more information, call the Prescott Frontier Days office at 928-445-3103 or visit www.worldsoldestrodeo.com.
More like this story
SUBMIT FEEDBACK
Click Below to:
This Week's Circulars
To view money-saving ads...