Fun lineup of musicians at Americana MusicFest

Originally Published: June 29, 2017 9:36 p.m.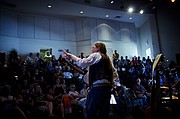 "When the Moon Fell in Love with the Sun" is one of tunes Tom Agostino heard earlier this year, performed by Dear Lemon Trees at the Raven in downtown Prescott.
"Oh, the harmonies are so good," he swooned, and promptly booked the trio for the Fourth of July Americana Fest that takes place at 6 p.m. on Sunday, July 2, at the Highlands Center for Natural History.
This headline group from California, consisting of Kathleen Grace, Jamie Drake and Leslie Stevens, offers up a beautiful three-part harmony that Agostino, marketing and communications at the Highlands Center, calls "old-school Americana, an original nice sound." They perform with guitar and banjo.
Three other groups join Dear Lemon Trees in this fifth annual concert planned for four hours of Americana Roots music: Robby Roberson Band, Tom & Christa with Meg Bohrman, and Folka Polka.
Robby Roberson, a longtime Phoenix musician, arrives with a four-piece band, which includes stand-up bass and "suitcase kit drum set." Agostino describes the sound as "soft, not rock and roll."
"For years and years, I'd run into Robby Roberson at folk festivals around Arizona. Finally I invited him to come up for the Dylan tribute, and he killed. So I invited the band to come back," he said.
Folka Polka is two guys from Phoenix that are a lot of fun. They get the audience laughing, singing along, and stomping their feet. "A joy to behold," Agostino said, accordion and all. They have added an armed services compilation into their play list for this show.
Tom and Christa, of course, are the local folk-meisters, Tom and Christa Agostino. They have invited Meg Bohrman – and her accordion – to join them. Two accordions on the bill!
One tune they will perform is John Prine's "Angels Out of Montgomery" with lyrics:
Make me an angel
That flies from Montgomery.
Make me a poster
Of an old rodeo.
Just give me one thing
That I can hold on to
To believe in this livin'
Is just a hard way to go.
Agostino also raved about another piece of music they heard Jesse Foucault sing two weeks ago, "You are a Fool and I Love You," which they learned and will perform.
Musicians will sit in with each other, making this a nice evening of great Americana roots music.
Tickets are $15 and available at the Center's Gift Shop at 1375 S. Walker Road, Prescott.
SUBMIT FEEDBACK
Click Below to:
More like this story