Which event is really the oldest rodeo?
No Trivial Pursuit: Prescott holds patent; but others have earlier dates

By
Doug Cook
,
Max Efrein
|
dougout_dc
|
mefrein
Originally Published: June 28, 2017 6:01 a.m.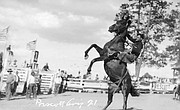 Schedule
Wednesday, June 28th - 7:30 p.m. — Daily Courier Night
Thursday, June 29 - 7:30 p.m. — Wrangler — Tough Enough to Wear Pink
Friday, June 30 — 7:30 p.m. — Jack Daniel's
Saturday, July 1 — 1:30 p.m. — Murphy's Restaurant
Saturday, July 1 - 7:30 p.m. — Coors/Canyon Distributing
Sunday, July 2 — 7:30 p.m. — Country Bank
Monday, July 3 — 7:30 p.m. — York/Ram
Tuesday, July 4 — 1:30 p.m. — Pepsi
Special events
Happy Hearts Rodeo for Exceptional Children June 28 — Prescott Rodeo Grounds
Rodeo Dance June 29, 30, July 1, 8 p.m. to 1 a.m. — BMO Harris Bank Parking Lot, 303 N. Montezuma
Kiwanis Kiddie Parade June 30, 8:30 a.m. — Cortez & Goodwin Prescott Rodeo Days Fine Arts & Crafts Show July 1, 2, 3 — Courthouse Plaza
Prescott Frontier Days®, Inc. Parade July 1, 9 a.m. — Courthouse Plaza
Whiskey Row Boot Race July 1, immediately after parade — Whiskey Row, Downtown Prescott
July 4th Celebration & Fireworks July 4, noon to 10 p.m. Fireworks start at 9 p.m. — Downtown Prescott
Fireman Hose Cart Races July 3, 9 a.m. — Cortez Street
Cowboy Church July 2, 10 a.m. — Prescott Rodeo Grounds
Rodeo Queen Coronation July 4, Noon — Prescott Rodeo Grounds
It's like a drama ripped straight from the pages of an American West folktale: What locale deserves recognition as host of the oldest rodeo?
Only, in this story, there are no gunfights and no damsels in distress. Just good, old-fashioned bragging rights and love for the sport.
"The big deal about rodeos is we all work together; we steal ideas from each other," said Tom Hirsig, president and CEO of Cheyenne Frontier Days Rodeo in Wyoming, formed in 1897. "We're all about building the Western heritage. And the better all of the rodeos are at doing that, the better all of the rodeos will be."
Although the answer to which rodeo is oldest isn't cut-and-dry, Prescottonians can take solace – it's not as muddy as it once was.
For more than three decades, the Prescott Frontier Days Rodeo has owned the official stake as "World's Oldest Rodeo," which dates back to July 4, 1888, and has been run annually ever since.
Rodeos in Pecos, Texas, and Payson, Arizona, among others, have claimed to be older, but Prescott Frontier Days applied for and later received a patent from the U.S. Patent Office on Aug. 6, 1985, classifying Prescott as the oldest.
PRESCOTT'S CASE
Back in the 1980s, the Prescott Frontier Days Committee successfully argued its case to the U.S. government for having the world's first "formalized" rodeo with "organized events of cowboy contests." Its argument was based on five criteria. The criteria said that, since its inception, Prescott Frontier Days had:
• Formed a committee to plan and stage the rodeo.
• Invited cowboys to compete.
• Charged admission.
• Awarded prizes and trophies.
• Documented the contests.
Although not called a rodeo at the time of the first cowboy tournament in Prescott, the 1888 event met each of those criteria. In fact, the ProRodeo Hall of Fame in Colorado Springs, Colorado, confirmed to the Courier on Tuesday that "Prescott is the oldest continuous rodeo."
Danny Freeman, Prescott Frontier Days' meticulous former historian who formulated the argument, has since died. However, Freeman wrote extensively about it, and Prescott Frontier Days Rodeo general manager J.C. Trujillo — a Prescott native — had something to say.
"Prescott may not be the first rodeo, but it's the first rodeo to charge admission, which created a fan base, and it had an entry fee," Trujillo said Tuesday morning. "And we were the first to put together a rulebook [for rodeo competitions]. One of the really important factors is when they [patent office] gave us registration as the 'World's Oldest Rodeo.'" Similar to Freeman, Trujillo said Prescott Frontier Days has proof that the tournament committee awarded steer roper and bronc rider Juan Leivas with an inscribed silver trophy for "Best Cowboy" after the 1888 rodeo. The 129-year-old trophy sits in Sharlot Hall Museum, 415 W. Gurley St. in Prescott.
CONTROVERSY RENEWED
It took a popular board game to reignite the controversy surrounding which town or city sponsored the oldest rodeo. In 1985, Trivial Pursuit included this question on one of its playing cards: "What rough-and-tumble Western sport was first formalized in Prescott, Arizona? Answer: rodeo."
The Pecos, Texas, rodeo, which celebrated its 100th anniversary in 1983, was quick to argue that the question's answer should have read: Pecos. The Pecos rodeo threatened to sue the game's maker if the answer wasn't changed. Prescott Frontier Days threatened to sue if the answer didn't stay the same, Freeman wrote.
Pecos dubs itself "The World's First Rodeo," established in 1883. However, "even some Texans agree that that contest only happened once and was not repeated again until the late 1920s before becoming a yearly event," Freeman added. In fact, in 1979 the West of the Pecos Rodeo marked its 50th anniversary (1929).
Jim Bainbridge of the Professional Rodeo Cowboys Association (PRCA) wrote in a 2012 article that Pecos' organizers claimed Pecos had staged the "first public cowboy contest wherein prizes were awarded to the winners of bronc riding and steer roping" on July 4, 1883.
The ProRodeo Hall of Fame says Pecos believes it is the oldest rodeo because it started in 1883 and was the first rodeo to host all of the sport's events.
A Pecos Rodeo spokesperson could not be reached for comment.
Freeman wrote in a "Days Past" article submitted by Sharlot Hall Museum and the Prescott Corral of Westerners, International, to The Daily Courier in 2000 that Trivial Pursuit sent Pecos and Frontier Days a letter saying the game's original answer is correct and would remain. "No further word was ever received from Pecos," Freeman penned.
OTHERS' CLAIMS
But what about Payson, 99 miles to Prescott's southeast? In 1984, the Payson Rodeo celebrated its centennial, embracing the slogan, "Oldest Annual Continuous Rodeo."
John Landino, president of marketing and publicity for the Payson Rodeo, said Payson's rodeo began in 1884. In August, the rodeo marks its 133rd consecutive year.
So, what's in a title?
"It's just bragging rights, because the thing that counts is: Do you get contestants? Do you get fans? Do you get support?" Landino said. "If you get those three things, then it doesn't matter if you started yesterday or 133 years ago. We like Prescott, they like us. But we love to jab each other."
Then there's Lander's Pioneer Days Rodeo in Wyoming, which claims to have the "World's Oldest Paid Rodeo," and the Deer Trail (Colorado) rodeo, which claims to have conducted the "first organized competition of cowboys for prizes."
Susan Eldringhoff, curator of the Deer Trail Museum and author of several books about Deer Trail's history, said the Deer Trail rodeo's claim is substantiated by an article in Field and Farm magazine, which was discovered in the Denver Public Library.
The article described in great detail a competition that took place in Deer Trail in 1869. Though it was referred to as a bronc busting contest rather than a rodeo — a term not used until the early 1900s — it is considered the first rodeo where prizes were awarded.
"The prize was a suit of clothes," Eldringhoff said.
And yet, after this competition, there is no clear record showing that another of its kind took place in Deer Trail in the years after for quite some time.
Colorado House Joint Resolution No. 1025, with the state's Senate and House of Representatives concurring, says "the first rodeo held in the world was in Deer Trail, Colorado, on July 4, 1869." The ProRodeo Hall of Fame recognizes this date.
There's still another rodeo with a competing claim, though — the Buffalo Bill Rodeo in North Platte, Nebraska. It claims that the first competition offering prize money for bronc riding, roping and buffalo riding occurred in July 4, 1882.
Bainbridge said that particular performance was called the Old Glory Blowout. "William (Buffalo Bill) Cody put up prize money for bronc riding, steer roping and buffalo riding in what was a precursor to Cody's Wild West Show and Congress of Rough Riders, which would travel the world," Bainbridge wrote.
To this day, it may be difficult to say which of these rodeos deserves recognition as the "first" rodeo or the "oldest" rodeo. At least one thing's for certain: the debate will continue.
"It's more a competition between the owners of the rodeo or the volunteers of the rodeo," Hirsig said of the debate. "I don't think it really matters to the person that's sitting in the stands."
Follow Doug Cook on Twitter @dougout_dc. Reach him at 928-445-3333 ext. 2039, or via email at dcook@prescottaz.com.
Follow Max Efrein on Twitter @mefrein. Reach him at 928-445-3333 ext. 1105, or via email at mefrein@prescottaz.com.
More like this story
SUBMIT FEEDBACK
Click Below to: