Originally Published: June 27, 2017 10:23 p.m.
Updated as of Wednesday, June 28, 2017 6:07 AM
Photo Gallery
Goodwin Fire 062717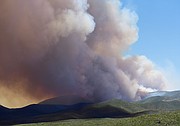 Photo Gallery
Goodwin Fire Reader Submitted Photos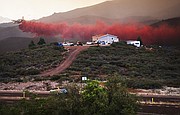 Help victims
The Salvation Army seeks donations for those who have been evacuated.
The biggest needs are large #10 cans of food, including corn and other vegetables, beans and fruit. Bulk snacks are appreciated as well.
Donations can be dropped off between 9 a.m. and 4 p.m. at the Salvation Army, 237 S. Montezuma St. in Prescott.
Stage II fire restrictions
Prescott National Forest plans to implement Stage II fire restrictions at 8 a.m., Friday, June 30, because of the increasing fire danger.
Building, maintaining, attending or using a fire, campfire, charcoal, coal, or stove fire, including fires in developed campgrounds and improved sites.
Smoking, except within an enclosed vehicle or building.
Discharging a firearm, air rifle, or gas gun, except while engaged in a lawful hunt pursuant to state, federal, or tribal laws and regulations.
Operating any internal combustion engine from 9 a.m. to 8 p.m.
Welding or operating acetylene or other torch with an open flame.
The Goodwin Fire was reported moving to the north and east and the Arizona Department of Transportation closed Highway 69 between Interstate 17 and Highway 169 because of dense smoke. Also, the fire did cross the highway at one point Tuesday afternoon.
Authorities issued mandatory evacuation notices for Mayer to Poland Junction, as well as Chaparral Hills, on Tuesday, June 27.
The area evacuated does not extend east of Highway 69.
The fire also knocked out power to five areas, affecting about 3,000 customers, APS reported.
Power had been restored to two of the areas by 8 p.m., but was still out in parts of Mayer and Dewey, impacting about 1,100 homes.
Pre-evacuation preparations have been ordered for Walker, Potato Patch, Mountain Pines Acres and Mount Union.
The fire, which started Saturday, June 24, and was less than 1,000 acres before Tuesday night, had grown to 18,000 acres by mid-day Tuesday when winds were gusting up to 20 miles per hour. The cause of the fire is unknown and under investigation.
It is burning in an area north and west of the junction of Senator Highway and County Road 177.
The evacuation order for the community of Pine Flat is still in place, and the Sheriff's Office also issued an evacuation order for Breezy Pines.
A Red Cross shelter has been set up at Bradshaw Mountain High School, 6000 Long Look Drive, in Prescott Valley and Animal Disaster Services is there to care for small pets. Large animals can be taken to the Coors building at the old horse track, 10501 E. Highway 89A; owners must supply containers for feeding and watering.
On Tuesday, the danger to Mayer was highlighted by a C-130 airtanker's slurry drops between Mayer and the advancing front of the fire.
A news release issued by the U.S. Forest Service said that reports of structures burned in the early stages of the fire have not yet been confirmed.
The fire was 1 percent contained as of Tuesday night.
More than 500 firefighters were working to stop the blaze, which is burning through dense chaparral over 40 years old.
A Type 1 Incident Management Team took over command of the fire at 6 a.m. Monday. The Yavapai County Emergency Operations phone bank number is 928-442-5103 and it is manned from 7 a.m. to 7 p.m. daily.
Live Video
Daily Courier Photo Editor Les Stukenberg is broadcasting live on Facebook from near the Goodwin Fire.
Watch this link for additional live broadcasts as they happen, or visit our Facebook page at: https://www.facebook.com/DailyCourier.
Related Stories