Pine Flat evacuated because of Goodwin Fire
Originally Published: June 24, 2017 6:45 p.m.
Updated as of Sunday, June 25, 2017 6:09 AM
The Yavapai County Sheriff's Office said the small community of Pine Flat, about five miles west of Mayer, has been evacuated because of a forest fire that started Saturday, June 24.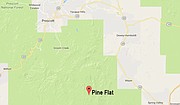 A fire started at about 4 p.m. in the Bradshaw Ranger District, about 14 miles southeast of Prescott at the junction of Senator Highway and County Road 177. The fire is moving north and east at moderate rate of spread and had burned about 150 acres at 7:30 p.m.
Pine Flat, which has only a handful of structures, was evacuated as a precaution. An emergency shelter was set up at Mayer High School, according to an email from YCSO.
Prescott National Forest Service spokesperson Debbie Maneely said they are calling this the Goodwin Fire and that two hotshot crews, a type 2 crew, three helicopters, two heavy airtankers, two single engine airtankers and six engines have been assigned to the fire.
Additional information was not immediately available.
More like this story
SUBMIT FEEDBACK
Click Below to: