Celebrating cowboy culture at PCA
Originally Published: June 22, 2017 8:52 p.m.
Updated as of Monday, June 26, 2017 6:40 AM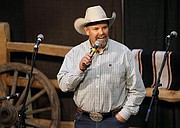 Essentials
What: Brenn Hill and Andy Nelson
Where: Prescott Center for the Arts, 208 N. Marina St.
When: Saturday, June 24, at 7 p.m.
Admission: $25
Contact: 928-445-3286
Online: pca-az.net
As Rodeo Week in Prescott approaches, this show celebrates cowboy culture at the just right time.
Brenn Hill, a cowboy singer and songwriter and Andy Nelson, a cowboy poet and humorist, come to Prescott Center for the Arts Saturday, June 24.
Hill, from Hooper, Utah, is well-known among his fans as a storyteller in song. He interprets western lore and culture in his songs.
Hill's created 12 albums material he's (mostly) written himself. His most recent release is "How You Heal."
He's spent 20 years touring and performing, and he won the Western Music Association Crescendo Award in 2001, and was named the 2004 Academy of Western Artists Male Vocalist of the Year.
Andy Nelson is a cowboy poet, rodeo announcer, and co-host of the syndicated "Clear Out West" radio show.
Nelson, from Wyoming, travels the west performing cowboy poetry and humor. He won the Western Music Association Male Poet of the Year Award in 2006 and 2013, and was awarded the Skinny Roland Humor Award from the Academy of Western Artists.
Nelson's writing has been included in anthologies such as "Wyoming's Cowboy Poets: And Their Poetry" and "The Big Roundup: Classic and Contemproary Poetry from CowboyPoetry.com."
Nelson's latest album is "I Won," and it features a wide range of poetic moods, from nonsense to reverence. He is accompanied by Hill — who produced the album — on several tracks.
The duo frequently works together, with Hill backing up Nelson's rhymes on guitar, breaking in at times to add his vocals.
The guitar adds an extra wistful dimension to the tradition of cowboy poetry.
More like this story
SUBMIT FEEDBACK
Click Below to: