State legislators urge senators not to cut Medicaid
Arizona lawmakers: Protect Medicaid
Bob Christie, Associated Press
Originally Published: June 22, 2017 6:02 a.m.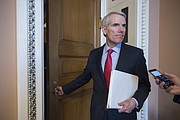 PHOENIX — A Republican state senator and representatives from business and health care groups are urging GOP Sens. John McCain and Jeff Flake not to back cuts to Medicaid as part of a health care overhaul bill.
State Sen. Kate Brophy McGee said the group met with the senators separately in Washington on Tuesday. The focus was on a part of the House-passed health care legislation that would phase out expanded Medicaid over several years.
Medicaid expansion was a key part of former President Barack Obama's health care law, and Arizona was one of the Republican-led states that decided to embrace the change. About 400,000 Arizonans have gained insurance under the plan, and a report by the state's Medicaid agency shows the House bill would cost about 380,000 of those people their coverage and cut health spending by $2.5 billion.
Brophy McGee said the meetings were meant to highlight the cost to the state if the Senate takes up a similar proposal. She said the group told the senators that they should not damage a Medicaid system that is working for Arizona in order to fix the private insurance exchanges that have been the most problematic part of former President Barack Obama's health care law.
"There are many issues around the legislation, or any proposed legislation or fixes, but we were there expressly to protect our Medicaid program, which is working and working very well," Brophy McGee said. Gov. Doug Ducey's aides have also been regularly contacting Flake and McCain about Medicaid.
Medicaid expansion opponents call it an unsustainable entitlement program.
Senate Majority Leader Mitch McConnell is leading a group that is writing a Senate version of a bill to replace the Affordable Care Act. Sources told The Associated Press on Wednesday it would cut and revamp Medicaid while eliminating taxes that pay for the expansion, remove the individual mandate to buy insurance and keep premium subsidies in place. A final version could be made public as early as Thursday and McConnell is expected to schedule a vote next week.
Neither Flake nor McCain have taken a position on a Senate bill because its details haven't been released. Republicans hold 52 seats and no Democrats support a repeal, so each GOP vote will be critical if it is to pass.
Flake, though, said in an interview late last month that he'll be looking at whether a Senate proposal allows states that expanded Medicaid enough time to transition while limiting growth in spending on the plan. The expansion covers people earning up to 138 percent of the federal poverty line.
"As far as what we need, my test will be, one, are we pulling the rug out from under people who don't have anywhere else to go," Flake said.
A representative of the association representing hospitals also attended the meetings, urging them to maintain expanded Medicaid coverage offered through the Arizona Health Care Cost Care Containment System, known as AHCCCS.
"We're pushing for legislation that protects Arizona — AHCCCS does a really good job relative to other states," said Greg Ensell, vice president of government relations for the Arizona Hospital and Healthcare Association. "Some of the complaints that are made in Congress truly don't apply in Arizona."
Brophy McGee was one of a handful of Republicans who backed the expansion pushed through in 2013 by former Gov. Jan Brewer over opposition from many in her own Republican party. About 1.9 million Arizonans are now covered by Medicaid.
The expansion population includes about 317,000 childless adults who earn less than the federal poverty limit, and 82,000 earning between 100 percent and 138 percent of the limit. Few if any could afford to buy private health insurance.
Arizona covered childless adults under an optional program that was frozen when the Great Recession hit. The number covered rapidly sank and uncompensated care at hospitals skyrocketed by 61 percent, Ensell said.
"If the expansion population is rolled back, we would expect that same thing to happen," Ensell said. "As it turns out, people get sick and come to the hospital whether or not they're on ACHHHS."
Associated Press reporter Ricardo Alonso-Zaldivar contributed from Washington, D.C.
More like this story
SUBMIT FEEDBACK
Click Below to:
This Week's Circulars
To view money-saving ads...