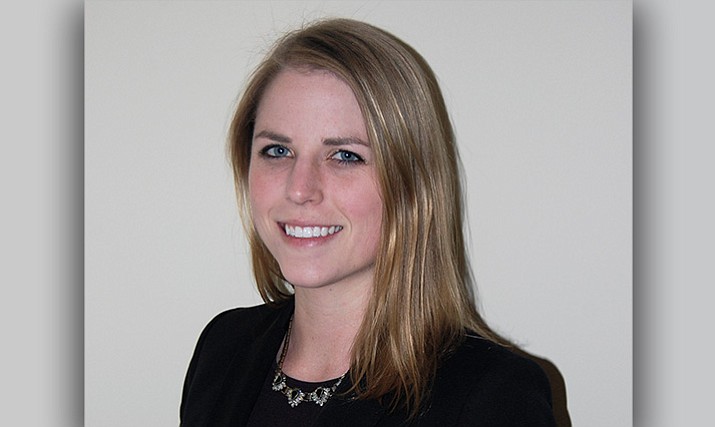 Originally Published: June 21, 2017 6 a.m.
Prescott Chapter Y of the Philantrophic Educational Organization (P.E.O.) is proud to announce that Alexandra Oakley Schluntz (Alex) has been awarded a P.E.O. Scholar Award in the amount of $15,000. P.E.O. Scholar Awards are one-time, competitive, merit-based awards for women of the United States and Canada who are pursuing a doctoral level degree at an accredited college or university. In addition to recognizing and encouraging excellence in higher education, these awards provide partial support for study and research for women who will make significant contributions in their varied fields.
A member of the Oakley family — longtime residents of Prescott, Alex graduated from Prescott Mile High Middle School. She graduated summa cum laude from the University of Arizona with a B.A. in Spanish (minor Mathematics) and a B.S. in Optical Sciences and Engineering (Valedictorian). She went on to complete a Master of Science (MSc) in Latin American Studies at Oxford University in 2015. Alex is currently a second year student at Yale Law School and expects to graduate in May, 2018.
Alex is studying International Law and Policy and plans to pursue a career in the public sector. She is currently working on the Farm Bill Consortium, which will provide her with another opportunity to be published. In addition to her study schedule, she excels at water polo and is a Coach/Player on the Yale water polo team.
"We are so proud that Alex was selected for this prestigious scholarship," said Sandy Steward, president of P.E.O. Chapter Y. "Her grandmother, Helen Oakley has been a member of our chapter for more than 44 years and it's so rewarding to be able to provide some support to such an outstanding young woman."
P.E.O. is an organization which provides encouragement and support to women by providing educational opportunities. The Sisterhood sponsors six international philanthropies designed to help women with their educational goals and almost 99,000 women have benefited from the organization's educational grants, loans, awards and stewardship of Cottey College. The Scholar Awards program has provided more than $21 million to deserving women.